Kanye West's 'Famous' Video Featuring a Naked Celebrity Pantheon Broke the Internet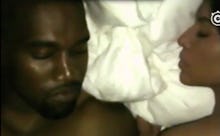 On Friday night, Kanye West unveiled the visual for his single "Famous" in front of a live audience at the L.A. Forum. For those who could not see it in person, the video was also released exclusively on Tidal after the event. 
"Famous" features wax likenesses of Vogue editor-in-chief Anna Wintour, presumptive Republican presidential nominee Donald Trump, former president George W. Bush, singers Rihanna, Chris Brown and Taylor Swift, West himself and his wife Kim Kardashian-West, rapper Ray J, Amber Rose and Bill Cosby lying nude in one big white-sheeted bed together. 
The video's final visual tableau of the twelve bodies in bed together drew inspiration from American realist Vincent Desiderio's "Sleep," which also features 12 bodies in bed together. Of course, in Kanye's visual, almost every body featured in bed with him has some, albeit tenuous, connection to the rapper.
Twitter had mixed reactions to the visual, with many praising its artfulness while others unsure of its decidedly unclear message. 
In an interview with Vanity Fair, West addressed whether the depiction of anyone in the video, especially Bill Cosby, is an endorsement or declaration of solidarity with the person. 
"It's not in support or anti any of [the people in the video]," West told Vanity Fair. "It's a comment on fame."
In March 2015, Kanye West curated an art collection called "Blud Rush" for CR Fashion Book and in the curatorial statement, spoke about his affinity for bodies.  
"My father once said to me that a pornographic image actually tattoos your mind," West said to CR Fashion Book. "It never leaves you. It binds to your senses and your psyche. Beauty is pornographic to me, it's a trigger in that same way—a chemical reaction that moves blood in the body. That is powerful. The other joy that's the most pure can only come through God."
Of course, if you ask Kanye, he is a god.
Watch the NSFW visuals in full here or watch a clip below.