Scotland's First Minister Announces Definitive Plans for a Second Independence Vote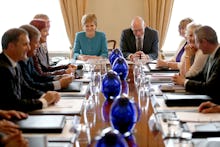 Scotland's First Prime Minister, Nicola Sturgeon, announced Saturday morning that she plans to take immediate steps to ensure that the country can remain a part of the European Union.
While England and Wales voted narrowly to leave the EU in Thursday's contentious Brexit referendum, Scotland voted emphatically, 62 to 38%, to remain. On Saturday, Sturgeon said that the vote to leave is one that she "deeply regret[s]."
"[Scotland] voted to protect our place in the world's biggest single market - and the jobs and investment that depend on it. We voted to safeguard our freedom to travel, live, work and study in other European countries," she said. "Unfortunately, of course, yesterday's result in Scotland was not echoed across the whole of the United Kingdom."
In light of the divergence of opinion between Scotland and England, Sturgeon said that the country's government will begin immediately considering a second referendum for independence from the U.K.
The country participated in a nationwide vote to the same effect in 2014, during which Scotland overwhelmingly voted "No" to independence.
The Brexit decision, however, marks a "material change in circumstances" that might have influenced the outcome of that 2014 vote, had Scotland known that the decision to part ways with the EU was imminent.
Still, there are those who oppose independence for Scotland.
According to the Independent, Ruth Davidson, leader of the Scottish Conservative Party, has counseled against what she says would be a decision to "wipe away the two million votes that we cast less than two years ago" to remain a part of the U.K.
"We do not address the challenges of leaving the European Union by leaving our own Union of nations, our biggest market and our closest friends," she said. 
Read more: