Black Lives Matter Activists Pull Out of San Francisco Pride Because of Police Presence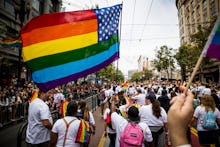 Activist group Black Lives Matter, set to be an organizational grand marshal at San Francisco's LGBTQ Pride Parade, pulled out of the festivities amid reports of an increased police presence at this year's celebration.
Citing the SFPD's recent string of scandals and killings of people of color, Black Lives Matter activists said that, while first responders can be a great resource during a crisis, "they are too often the cause of harm in queer communities of color." 
"For us, celebrating Pride this year meant choosing between the threat of homophobic and transphobic vigilante violence and the threat of police violence," said Malkia Cyril, a member of Black Lives Matter, in a statement. "We had a tough decision to make, and ultimately we chose to keep our people safe by not participating in any event that would leave our communities vulnerable to either."
The statement acknowledged that, in the wake of the tragic shooting at Pulse nightclub in Orlando, Florida, several LGBTQ pride events have seen increased police presence. 
"In the Bay Area, and the rest of the country, Black communities experience real fear and terror at the hands of homophobic and racist vigilantes and law enforcement," Shanelle Matthews, director of communications for the BLM Network, said in the statement. "We are working every day to find solutions and we know the militarization of large-scale events only gives an illusion of safety. We are choosing to do the real work of building safe communities."
New Orleans organizing group BreakOUT! also pulled participation from the New Orleans Pride parade because of increased police presence. 
Michelle Meow, the SF Pride board president, endorsed the withdrawal as well. 
"Increasing police presence in our community is not the solution," she told The Guardian. "We have to get through this year so we can think about what safety means outside of police protection, because that is not the answer."