Why Did Kanye West Put Rihanna Next to Her Abuser in his 'Famous' Music Video?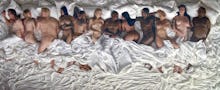 Parsing out exactly what Kanye West means in his music can be difficult, precisely because sometimes it seems like Kanye West doesn't even know what his music is saying.
After early criticism surfaced in 2011 of his music video for "Monster," which famously featured shots of West fondling the bodies of dead and dismembered women, Rolling Stone reported that the rapper tacked a hefty disclaimer on to the video's final cut: "The following content is in no way to be interpreted as misogynistic or negative towards any groups of people. It is an art piece and it shall be taken as such."
So here in 2016, what is Kanye West trying to say to us with his music video for "Famous", which features a sleeping wax figurine of Rihanna next to Chris Brown, the man that gave her two black eyes, a fat lip and multiple facial lacerations in 2009?
Is this "an art piece," too? What is the intended effect? 
The video, which was released at a screening in front of a live audience in Los Angeles on June 24 and is now streaming exclusively on Tidal, features a lineup of wax-rendered naked celebrities, including Bill Cosby, Donald Trump and Anna Wintour, asleep in the same bed.
"Famous" is the same song that generated controversy for a line that West rapped about how he and pop star Taylor Swift "might still have sex," and another where he claims he "made that bitch famous." Of course, Swift is there in the video, too — her naked wax body is curled up next to West in bed on his righthand side.
Reactions to the video have already begun to roll in. According HollywoodLife.com, "Taylor is livid. Taylor is horrified." Kanye, for his part, seems to be anticipating a bigger blowback. "Can somebody sue me already #I'llWait," he tweeted on Saturday.
Notably, Ray J, the rapper who helped to create the notorious sex tape that would thrust West's wife, Kim Kardashian West, into what has now been more than a decade of the relentless glow of the spotlight, is also present.
It's not yet clear what the deeper meaning behind West's latest piece of art is yet. It is clear, however, that this is just the latest installment to West's canon of works that make light of abuse and violence against women.
Read more: