Brexit Turns to #Regrexit As UK Faces Fallout From Referendum to Leave EU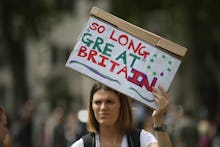 Two days after the U.K. voted by a four-point margin to leave the European Union, Prime Minister David Cameron has resigned, stock markets fell sharply, economists are predicting the vote will hurt the U.K.'s economic prospects and the power of Europe's far-right appears to have grown.
Meanwhile, some of the promises offered by the campaigners to leave the campaign have been revealed as hollow — including by Nigel Farage, leader of the far-right UKIP party and campaigner for the referendum, who seemingly reneged on Vote Leave's promises to spend "£350 million a week" in cash supposedly bound for the EU on health care Friday.
"Brexit is probably just the beginning, as populist/separatist/xenophobic movements gain influence across the continent," wrote the New York Times' Paul Krugman "... Brexit just brings to a head an abscess that would have burst fairly soon in any case."
It's enough to make 1.5 million people #regrexit, signing a petition with over 2.3 million signatures as of Saturday afternoon on the U.K. Parliament's official website. Some regret their decision, while others lament not voting.
"I didn't think my vote was going to matter too much because I thought we were just going to remain," one British man told the BBC.
"This morning the reality is actually hitting in and the regret is hitting in," student Mandy Suthi told the Evening Standard. "I wish I had the opportunity to vote again, simply because I would do things differently."
"We the undersigned call upon HM Government to implement a rule that if the remain or leave vote is less than 60% based a turnout less than 75% there should be another referendum," reads the petition.
According to CNN, the petition has passed the 100,000 signatures mark necessary to force a debate on the topic in Parliament. Since the Brexit vote was a non-binding referendum, the legislative body could technically refuse to follow through on it.
As CNN noted, the thresholds demanded by the petition would conveniently undo the results of Thursday's referendum, as only 51.9 percent voted to leave based on a turnout of 72 percent.
Some have mocked the campaign and the hashtag, suggesting British voters should have turned out in greater numbers to defeat the referendum if they cared about the future of the U.K.:
Read More: