At Least 23 Dead After Floods Ravage Much of West Virginia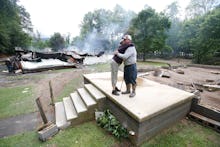 At least 23 people are dead in West Virginia following "fast-moving floodwaters" that rolled through much of the state, destroying trees and utility lines and flooding homes, reported CNN.
As the stormwaters began to recede on Saturday, more than 32,000 homes and businesses throughout the state lacked electricity, according to the West Virginia Division of the Department of Homeland Security:
According to AccuWeather Senior Meteorologist Alex Sosnowski, "The amount of rain that recently fell on parts of West Virginia and southern Virginia exceeded a once-in-a-century event for the specific area and resulted in catastrophic flooding in some communities. Radar estimates indicated 6 to 10 inches of rain fell on some locations in 24 hours."
Greenbrier County Sheriff Jan Cahill told the Associated Press there was "complete chaos" in her county.
"Roads destroyed, bridges out, homes burned down, washed off foundations," Cahill told the Weather Channel. "Multiple sections of highway just missing. Pavement just peeled off like a banana. I've never seen anything like that."
In a now-infamous video posted to Twitter on Friday, onlookers gasped as a flaming house coasted down a creek.
Other views of the destruction showed extensive storm damage in affected areas.
In addition to mobilizing state emergency resources, Gov. Earl Ray Tomblin "announced the state has been approved for a Federal Disaster Declaration by the Federal Emergency Management Agency," reported West Virginia Public Broadcasting. According to the broadcaster, agencies have begun the switch from search and rescue operations to aiding recovery.
Read more:
New Study Says Extreme NYC Summer Heat Could Kill Thousands Annually by 2080'
The World's Oceans Are Almost Totally Screwed
Carbon Emissions Are Choking Our Atmosphere — And We Just Hit a Terrifying Milestone