Texas Mom Who Fatally Shot Both of Her Daughters Killed By Police Near Houston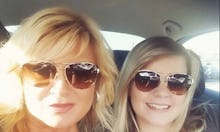 A Texas mom who fatally shot both of her daughters in the street after a "family disturbance" was shot dead by a police officer shortly afterward, according to the Associated Press.
Calls of a disturbance in the city of Fulshear, a suburb outside of Houston, began coming in at around 5 p.m. local time. When a police officer arrived at the scene, the Fort Bend County Sheriff's Office says, he encountered three women who were later identified as 42-year-old mother Christy Sheats and her two daughters, 22-year-old Taylor Sheats and 17-year-old Madison Sheats.
Christy Sheats was holding a pistol, the Houston Chronicle reports. Her two daughters were laying on the ground.
Both of the daughters had already been shot, and Sheats appeared to be preparing to shoot one of the girls a second time when the responding officer neutralized the situation by fatally shooting Sheats, Sheriff Troy Nehls told the AP. 
He added that the shooting appeared to have been the result of a family argument, but said that the reason for the fight remains unclear. In a Facebook post, Nehls called the incident an "unimaginable tragedy that it seems we see too often."
One of the girls was dead at the scene when authorities arrived. The other was flown to a nearby hospital in critical condition, but later died from her injuries.
In a statement, the Fulshear Police Department's Facebook page said that their officer had been "forced to take action", and that he had not been harmed in the altercation.
Nehls also told the Chronicle that the girls' father had been home at the time of the altercation, and that he had been badly rattled by the incident.
"He's going through a very difficult time," Nehls said.
In a September 2015 Facebook post dedicated to her daughters, Christy Sheats wrote, "Happy Daughter's Day to my two amazing, sweet, kind, beautiful, intelligent girls. I love and treasure you both more than you could ever possibly know."
Posts from Sheats' Facebook also reveal her to be a staunch supporter of the Second Amendment.
"It would be horribly tragic if my ability to protect myself or my family were to be taken away, but that's exactly what Democrats are determined to do by banning semi-automatic handguns," she wrote in March.
Read more: