Donald Trump Slips 12 Points Behind Hillary Clinton in New WaPo/ABC Poll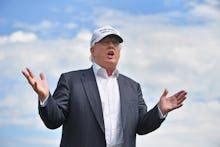 Presumptive Republican presidential nominee Donald Trump has found himself the victim on the business end of one of his favorite lines of attack: low poll numbers.
After a month of heavy criticism for the self-congratulations he offered himself following a deadly mass shooting in Orlando, racist attacks on a Mexican-American judge and collapsing Republican Party support, the GOP billionaire has fallen 12 points behind his Democratic counterpart Hillary Clinton in a new Washington Post-ABC News poll.
While roughly half of respondents were "anxious" about the prospect of President Clinton, "in a head-to-head general election matchup, Clinton leads Trump 51 percent to 39 percent among registered voters nationwide, the poll found," the Post wrote. "This is Clinton's largest lead in Post-ABC polling since last fall and a dramatic reversal from last month's survey, which found the race nearly even, with Trump at 46% and Clinton at 44%."
The poll also found 62% of Americans believe Republican leaders should speak out against Trump when they disagree with his views, 64% believe Trump is not qualified to be president and 70% of voters are anxious about the prospect of the real-estate billionaire seizing the presidency. Just 28% of those polled felt Trump has a "better personality and temperament" than Clinton for the nation's highest office. 
The bad poll numbers follow on the heels of other very bad news for the Republican candidate.
Earlier this week, monthly FEC filings revealed Trump's presidential campaign had just $1.3 million in the bank — and $45.7 million in debt, owed mostly to himself.
"It's mindblowing," Republican strategist and Trump opponent Rick Wilson told Mic, "and it's a staggering indictment of not only how inept and weak he is as a real candidate, but how his enablers at the [Republican National Committee] have ignored this nightmare until it's almost too late."
The Post-ABC News poll isn't the only to show a precipitous drop in support for Trump. Since late May, Trump has fallen dramatically against Clinton in an average of polls kept by Real Clear Politics.
Read more: