Shark Week 2016: Everything You Need to Know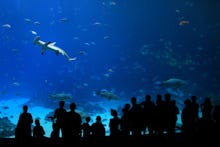 Get ready to dive headfirst into your favorite summer TV indulgence: Shark Week is back, people.
The feeding frenzy begins Sunday at 8 p.m. Eastern on the Discovery Channel, but there are other ways to watch if you can't catch the week-long event live on cable.
How to watch:
Because it's 2016, there are plenty of options for those who want to see a high resolution breach or two without breaking the bank on a cable subscription.
Amazon
Also available for purchase is every other season of Shark Week to ever air since the inaugural event in 2006. 
iTunes
Similarly, episodes and full season passes are available via the iTunes store for the same price, so your only real option between these two is whether you want to give your money to Benevolent Overlord Bezos or Jobs.
Hulu
The free trials last for one week, during which you'll have access to an unlimited amount of the 39 episodes from the 2011 to 2014 seasons that are available on the site. 
Not for nothing, but a week seems like more than enough time to cram in a couple episodes. This free option sounds like a great bargain.
What to expect:
Be sure not to miss the five Shark Week specials Mic wrote about earlier this week, including a feature on tiger shark mating patterns, a segment on the rising frequency of "shark encounters" and something called Sharks vs. Dolphins: Face Off.
The fun comes to an end on July 3, culminating with a final episode called The Killing Games. 
Oh, Shark Week ... you're too good for this world, too pure.
Read more: