This Mom's Letter Advocating for Her Son With Down Syndrome Should be Required Reading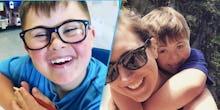 After her son was the only member of his class not to be invited to a birthday party, Jennifer Kiss-Engele took to Facebook to pen an open letter to the mother of the classmate having the party, sharing a heartwarming message of inclusiveness and compassion in the process.
In her note, Kiss-Engele explains that despite being a fun, happy and sweet little boy, her son, Sawyer, has not been invited to many birthday parties this school year as a result of having Down Syndrome.
Empathetic through, she notes in the letter that Down Syndrome can be difficult to understand for the uninitiated, but also seeks to dispel the common misconceptions people have about her son.
She writes:
You see, having Down Syndrome doesn't mean that you don't want to have friends. It doesn't mean that you don't have feelings. It doesn't mean you don't like to go to birthday parties. People with Down Syndrome want the same things that you and I want. They want to have close relationships, they want to feel love, they want to contribute, they want to have meaningful lives, and they want to go to birthday parties. 
The letter notes that although the situation can be a tricky one to navigate, the decision to be inclusive can leave a lasting impact on a child, and ultimately benefit them when it comes to dealing with individuals who are different from them later in their lives.
"They will remember the time that their parent said to them, it's not OK to leave someone out because of their disability, race, or gender," Kiss-Engele writes.
The letter has been shared on Facebook more than 3,800 times since it was posted on Thursday.
In an addendum to her missive, Kiss-Engele updated her audience with some happy news: The child throwing the birthday party has reached out to Sawyer with a special invitation. "Of course he's been beaming ever since and can't stop talking about it," she wrote.
Read more: