Tens of Thousands Show Up to March At NYC LGBTQ Pride March 2016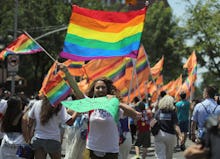 Thousands of people took to the streets of New York City on Sunday to celebrate LGBTQ Pride Month and rally in support of the LGBTQ community following a mass shooting at gay nightclub Pulse in Orlando, Florida, this month which left 49 victims dead.
According to A.M. New York, this year's 46th annual Pride March was the largest in New York history, with some 32,000 marchers. It prominently featured Barbara Poma, the owner of Pulse, and its manager, Neema Bahrami, as "honored guests," A.M. New York reported.
"It really is the norm," 45-year-old Jessame Hannus of Rego Park, Queens told the site. "My mother came out when I was six and I marched in my first Gay Pride Parade when I was 10. With all that happened last week in Orlando, I feel like I had to come back out and remind everybody that it's families we're talking about." 
Fifteen-year-old Transkids Purple Rainbow Foundation honorary co-founder Jazz Jennings served as the parade's youngest Grand Marshal ever.
Additional notable guests included New York City Mayor Bill de Blasio, Sen. Kirsten Gillibrand and presumptive Democratic presidential nominee Hillary Clinton, as well as Al Sharpton and New York Gov. Andrew Cuomo.
Other attendees included the cast of Orange Is The New Black, such as co-star Samira Wiley, and retired basketball star Jason Collins, who was the first openly gay player in the NBA.
There were tons of floats and parade formations — as well as a heavy cordon of NYPD counter-terrorism officers.
More than a few protesters wore shirts saying "Gays Against Guns" or participated in a staged die-in to commemorate the victims of the Orlando shooting and protest the firearms lobby.