Bilal Gave an Epic Tribute to Prince at the BET Awards — The World Should Know His Name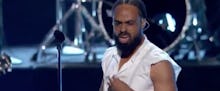 April 21 was devastating for the music world. Prince, the forever young, forever magical Peter Pan of funk, died from an opiate overdose. 
Music has been working to recover ever since. 
Madonna and Stevie Wonder attempted to toast to Prince in May at the Billboard Music Awards back — but nobody raised their proverbial glasses with them. Then BET threw some major shade, saying they'll give us a far better tribute than Billboard when their award show rolled around in June. 
They were not wrong, but few probably expected it would come from little known soul provocateur Bilal, backed by the legendary Roots crew.
The 36-year-old soul singer isn't exactly a household name. But he has consistently brought some of the most flexible and enlightening funk since the early '00s. He was an integral portion of the Soulquarians collective, alongside the Roots, D'Angelo, Q-Tip and Erykah Badu, who also performed "The Ballad of Dorothy Parker" during the same number. 
Next to Bilal's rendition of "The Beautiful Ones," Badu simply didn't shine as bright. Bilal wailed, writhed and captured all of the song's power.
Twitter was here for every scream. And all those who didn't know Bilal before, now understand he is a force to be reckoned with.