Beyoncé Opens the 2016 BET Awards With a Powerful Statement About "Freedom"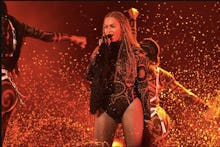 Who could have possibly slayed the opening of the 2016 BET Awards more thoroughly than Queen Bey? 
Beyoncé wasn't officially announced to perform at Sunday's award show. But as her backup dancers marched into the Microsoft Theater in Los Angeles Martin Luther King Jr.'s "I Have a Dream" speech echoed over a driving beat, the audience knew it was on.
"This note was a promise that all men, yes, black men as well as white men, would be guaranteed the 'unalienable Rights' of 'life, Liberty and the pursuit of Happiness,'" he said. "It is obvious today that America has defaulted on this promissory note, insofar as her citizens of color are concerned."
Then, pow. There was Beyoncé onstage to perform "Freedom" from her hit album Lemonade.
Kendrick Lamar later joined her onstage, rapping a life-giving a capella verse, stomping alongside the queen in a pool of water.
Of course, the BeyHive was there for every minute of it:
Watch the Beyoncé's full performance on the BET Awards here. 
Read more: