After Brexit, Facebook Group Shows White Nationalist Hate Speech Catching Fire in UK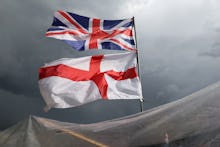 Hate speech against minorities by white nationalists appears to be on the rise in the wake of the United Kingdom's vote to leave the European Union.
The referendum has sent shock waves through global politics and economic markets, and has left countless Britons fearful of backlash brought on by the move. 
And that fear is well-founded. Conservative MP Sayeeda Warsi told Sky News "the atmosphere on the street is not good," and described anecdotal evidence of nonwhite Britons being approached and told to leave the country.  
With the flood of such experiences in mind, Sarah Childs, Natasha Blank and Yasmin Weaver created a Facebook photo album of screenshots revealing some of the incidents that have already taken place across the region, titled "Worrying Signs." 
The group, wrote the creators, is a "safe space where you can share information and post pictures and screen grabs of any worrying signs or incidents of racism/xenophobia you've come across since the EU referendum results."
Some hate-filled attacks occurred entirely online; others occurred in public. As many note throughout their posts, it appears as though racism, hate speech and anti-immigrant sentiment have become more acceptable, and are approaching normalization, since the historic decision.
One woman wrote she was at a London bar with her brother when she was approached by a middle-aged white man, who told her: "I know we've voted to leave Europe today but we should have voted to kick all you lot out. You'll never be real British, you're not true cockney like me. I couldn't care less if you think you're here to be a doctor, or a lawyer, or whatever, I couldn't care less, but just go back and do it in your own country."
"We told him that we were born in Wales, in the Newport Gwent Hospital, and that we were as British as he was," the post continued. "He continued to insist we weren't British."
"It's all fun and memes until you walk up Great Portland Street and hear people chanting 'make Britain white again!'" one Twitter screenshot read. "I'm... anxious."
The decision to cut ties with the EU was largely spurred by the economic effect of the refugee crisis that's caught many of the bloc's 28 member states off guard. 
"Many communities are fed up with cuts, fed up with economic dislocation and feel very angry at the way they've been betrayed and marginalized," the leader of the opposition Labour party Jeremy Corbyn told NPR. Mainly white voters, Corbyn said, "felt that the price of immigration was just too high, that it was driving down wages, costing people jobs."
"I've been told to leave this country more in the past 24 hours than in the 17 years I've lived here," Facebook user Sylvia Broeckx wrote. "This referendum has given a mandate to racists and xenophobes to come out loud and proud. England and Sheffield have broken my heart."
Within 24 hours of its creation, "Worrying Signs" has gained nearly 7,000 members. "These are dark and dangerous times," Blank wrote on the Facebook group page. "But hopefully we can spread some awareness and help keep each other safe."
Read more: