Netflix Streaming July 2016: List of What's Coming and What's Going This Month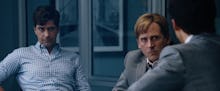 For July, Netflix will be trading in a few movie and television titles for some others. While audiences will have to say goodbye to the Star Trek series, Along Came Polly and Talladega Nights: The Ballad of Ricky Bobby, they can also look forward to the Back to the Future series, Mean Girls and the Lethal Weapon series. 
There'll also be new seasons for BoJack Horseman, Degrassi: Next Class and My Little Pony: Friendship Is Magic this month. This month, Netflix will debut the British crime series Marcella and the marijuana documentary called Rolling Papers. 
People will also get to watch the award-winning The Big Short, which stars Brad Pitt and Christian Bale. 
Below is the monthly update for Netflix: 
Coming to Netflix in July
July 1
41 on 41
A Long Way From Home
Back to the Future
Back to the Future Part II 
Back to the Future Part III
Bad Boys II 
Batman: The Movie
Beavis and Butt-head Do America 
Between, season two
Beverly Hills Cop 
Beverly Hills Cop II 
Big Trouble in Little China
Blade 2 
By the People: The Election of Barack Obama
Catwoman 
Cheaper by the Dozen
Cinderella Man 
Conflict 
Death Race 2
Death Race 3: Inferno
Deep, season one
Dreamcatcher 
Extremely Loud and Incredibly Close 
Gentlemen Prefer Blondes 
Gladiator 
Hello, Dolly!
Hey Arnold! The Movie
Honey 
Insomnia
The Italian Job 
Jackass: Number Two
Jim Jefferies: Freedumb
Lalaloopsy Ponies: The Big Show
Lethal Weapon 
Lethal Weapon 2
Lethal Weapon 3 
Lethal Weapon 4 
The Longest Yard
The Lovely Bones
Making the American Man 
Marcella, season one
Marco Polo, season two 
Mean Girls 
Nevada Smith 
Nick of Time
The Painted Veil
Pandemic 
Phenomenon 
Raiders of The Lost Art, season two
Rumor Has It 
Scooby-Doo
The Shannara Chronicles, season one
The Sting
Stomp the Yard: Homecoming 
Talhotblond 
Terminus
Turner and Hooch
Twisted 
Watershed: Exploring A New Water Ethic for the New West 
Well Wishes
Working Girl 
Yours, Mine and Ours
July 4
Kuromukuro, season one
July 6 
The Big Short
July 7
A War
The Armor of Light
Brahman Naman
NSU German History X, season one
July 8
The Invitation
Word Party, season one 
July 9
Mustang
Mystery Files, season one 
July 10
The Last Kingdom, season one
July 12
Rolling Papers 
July 14
Gridlocked
Magi: The Adventures of Sinbad, season one
Todd Margaret, season three
July 15
The Adventures of Puss in Boots, season three
Ghostheads 
Holidays 
Rebirth 
Stranger Things, season one
Tony Robbins: I Am Not Your Guru 
July 16
Fighting
July 19
Liv and Maddie, season three
July 22
BoJack Horseman, season three
Degrassi: Next Class, season two
July 24
Popples, season three
July 27
The Wave
July 29
Home: Adventures With Tip & Oh, season one
Last Chance U
LEGO Bionicle: The Journey to One, season two
Tallulah
July 30
My Little Pony: Friendship Is Magic, season six, part one
July 31
Hit Record on TV With Joseph Gordon-Levitt, season two
The biggest movies leaving Netflix in July
2001: A Space Odyssey 
A Clockwork Orange
Along Came Polly
Cheech & Chong's Up in Smoke
Butch Cassidy and the Sundance Kid 
Notting Hill
Star Trek: The Motion Picture
Star Trek II: The Wrath of Khan 
Star Trek III: The Search for Spock 
Star Trek IV: The Voyage Home 
Star Trek V: The Final Frontier
Star Trek VI: The Undiscovered Country 
Star Trek: Generations
Talladega Nights: The Ballad of Ricky Bobby
Read more: