A Popular Makeup Vlogger Wore a Hijab in a Tutorial — And Not Everyone Is Happy About It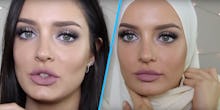 According to Chloe Morello, a hugely popular makeup vlogger with more than 700,000 Instagram followers and 1.7 million YouTube subscribers, all she wanted to do was make a tutorial specifically for her Muslim fans. It was Eid al-Fitr, the Islamic holiday that marks the end of the month-long fast of Ramadan, after all, and according to her, she had been flooded with requests for an #Eid2016 makeup tutorial. 
But not all of her fans are pleased. That's because Morello, who identifies as an atheist, wore a hijab during the tutorial, which is titled "Eid Makeup Tutorial: Soft Glam Look With Cool Tones!" 
For the first eight minutes of the video, Morello is seen swiping on her foundation, highlighter, eyeshadow, more highlighter, lipgloss and putting on false lashes.  
But then, in the last few moments, she slides on a headscarf.
"Just so you can see what the look will look like with a hijab on," she says in the video. "I don't want to offend anyone when I do this." 
"Most people like it, I think, but it's purely so the hijabis know what it will look like with one on." 
And yet, it did offend some.
Although Morello has done Eid tutorials before and they were well-received (according to her), this was the year when her fans started to get more than a little uncomfortable. 
"It's lovely of you to do a makeup look for Eid, as clearly your demographic includes Muslim women who love your looks," one commenter wrote below the video. "However, wearing a hijab for the purpose of the video is wrong." 
Another: "For you it's easy to wear it like a costume, for the purpose of a tutorial, while actual Muslim women wear it with the risk of being harassed or being attacked due to the fact Islamophobia is still so high in society." 
With the nine-minute tutorial (which has so far received over 284,000 views), Morello seemed to split the field among her fans, many of who thought her donning the hijab was bordering on cultural appropriation. 
Given that Morello, who Mic has reached out to for comment, did explicitly state to her viewers the reason why she wanted to put on a headscarf for this video, not everyone is upset. 
"A lot of muslim girls wear a hijab, she didn't treat it like a 'costume,' she was just showing you how it would look in the case of a hijab-wearing girl recreating it," one commenter wrote. "I loved the look. I didn't see her mocking our religion. Some of you guys need to just relax a little." 
Another: "You are the only non-Muslim beauty blogger who does this for us Muslim girls. I love you for this."
Given the split response, Morello was quick to comment on the video, issuing a statement via Snapchat. "It makes as much sense as it does to do a Christmas tutorial to do an Eid tutorial," she said. "I'm not trying to promote any religion here; I'm just trying to promote acceptance. It should be normal for Islamic women to feel a part of society."
Now, you can watch the video in full below, and judge for yourself.
Read more: