iPhone 7 Rumors: Here's Everything We (Think) We Know So Far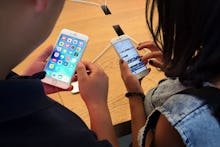 The iPhone 7, iPhone 7 Plus — and potentially even an iPhone Pro — will most likely be unveiled this September. Until then, we'll have to subsist on alleged leaks and rumors. Here is the information we have so far.
No headphone jack
The most controversial rumor about the next round of iPhones is that Apple will remove the phone's headphone jack, forcing users to use wireless headphones, buy an adapter to plug their headphones into the iPhone's lightning port or buy headphones that plug directly into the lightning port. It would be an irritating change. 
There has been some doubt as to whether this rumor is true, though. A recent leak of alleged iPhone parts last week suggested that the iPhone 7 might have a headphone jack after all. 
If Apple does decide to remove the headphone jack, it might replace it with a second speaker grill. 
Another speaker grill
New alleged leaks show an iPhone with speaker holes on both sides of the iPhone's bottom instead of just the right side. There are speaker holes where the headphone jack once was, giving more credibility to the rumor that the headphone jack is going away. 
New color
There have been rumors that Apple would introduce a new color this time around, a dark blue. The iPhone 6s and iPhone 6s Plus are currently available in silver, gray, gold and rose gold. 
On Monday, that rumor was called into question. There might be a new color, but it could replace a current one. The new color is a darker gray, between the current Space Gray color and black, AppleInsider reported. It would likely replace the version of Space Gray that we've seen thus far. 
Dual-lens camera
A dual-lens camera would take iPhone photography to a whole new level. 
Unfortunately, this rumor is one of the least reliable — the iPhone may or may not have a dual-lens camera. If it does, it would likely just be on the iPhone 7 Plus, the larger of the two phones. 
While there have been multiple photos "leaked," some have argued that the technology necessary for a dual-lens camera isn't ready. 
Some smartphones already have dual-lens cameras, and this type of camera allows for both wide-angle and zoom shots. 
Read more: