The Unexpected Way Fashion Is Slowly but Surely Killing Off the "Bikini Body"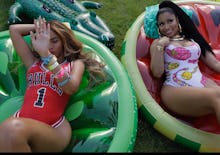 Sure, the sunshine, bucketfuls of rosé and giant flamingos of summer are great, but for the roughly half of us expected to enjoy the season in just two flimsy pieces of fabric, summer is a sweaty barrage of unrealistic expectations.
That's thanks to the elusive "bikini body," no, not just a body in a bikini, but rather an ineffable blend of slenderness, curves and magic dust long dictated to us by women's magazines, Sports Illustrated and social media. Emily Ratajkowski has one (as does her mother, apparently), Hilary Duff has been quizzed on how she gets hers, Britney Spears is twirling hers for the haters and many a celebrity has faked their way to one by digitally altering photos.
But hope has arrived in an unexpected form: the one-piece swimsuit. Yes, you might feel that Kayla Itsines and her Bikini Body Guide are personally hounding you on Instagram or that those perky Victoria's Secret models exist only to make you feel terrible about yourself, but take heart that the bikini body myth is beginning to lose its luster.
After all, how can we be pressured into bikini bodies if we're no longer wearing bikinis?
Believe it — the summer fashion staple named after the testing site for the hydrogen bomb is finally losing its nuclear hold over our beaches. And it's all down to the humble one piece, once favored only by ladies of a certain age and professional swimmers. 
One pieces have been around for a century and edged back toward the mainstream around 2014, when a greater variety of styles made it clear that the traditional bathing suit still had modern-day relevance, thanks in large part to celebrities like Beyonce, whose Instagram has become a study in how to look #flawless in a one piece.
And this year the one piece has gone truly mainstream, with retailers like Barneys New York and online swimwear retailer Figleaves reporting big jumps in sales of one pieces.
"We only sell one-pieces and tankinis that look like one pieces. We've had awesome growth this year, selling out early in the spring and every time we restock," Jessica Rey, founder of modest swim company Rey Swimwear, said in an interview.
"Bikinis have become so revealing and I don't think ladies want that much exposure. It doesn't mean they're not comfortable with their bodies or think that their bodies are bad — they want to wear clothes they feel confident and beautiful in. They also want to be comfortable — to be able to swim, surf, and be active without worrying that they're going to fall out of of their swimsuit," Rey said.
And there's no shortage of confident celebrity role models in one pieces, with the likes of Gigi Hadid, Olivia Culpo, Kylie Jenner and Willow Smith all ditching bikinis for one pieces this summer.
"Designers are finally realizing that plenty of us look less than perfect in a swimsuit. A one piece, while possibly being a bit more modest or just plain covering up that tummy area that you don't want to flaunt can still be sporty, sexy and cute!" Christina Smith, president of Closet Candy Boutique, said in an interview, noting that the site has seen equal sales of bikinis and one pieces this summer.
Greater choice in swimsuit styles is giving women the flexibility to choose designs they feel are flattering to their shape, saving the stress and sweat of trying to achieve a "bikini body" before hitting the beach.
"With a one piece, I not only feel more comfortable but so much more confident as well," lifestyle blogger and one-piece convert Brittany Hayes said in an interview. "I think that women are really starting to embrace their bodies in a way that says I am going to show off what I feel confident about and confidently hide what I am not as comfortable with showing."
But why do we only feel comfortable relinquishing the bikini and all the pressure that comes with it now? After all, the bikini has been around since the 1940s and a mainstream choice for decades now, with the one piece increasingly seen as frumpy and old-fashioned in a society that equates sexiness with the amount of flesh on show. 
For one, the bodysuit has made a major comeback recently as part of the athleisure trend (you know, dressing like you're going to the gym when you're actually going to the mall, the bar or even the office). The trend for functional over frilly means even Victoria's Secret is swapping balconettes for bralettes, and Miss Teen USA has ditched the traditional swimsuit portion of the pageant for an athleisure-inspired parade instead.  
It is also no coincidence that the explosion in popularity of the one piece is concurrent with the recent growth of modest fashion. While primarily catering to religious communities from Muslims to Mormons, the increasingly stylish, young and modern options in covered clothing have made modesty relevant again to mainstream shoppers, whatever their beliefs.
"I truly think modesty is coming back. I think there are so many hip and chic options now that are still sexy and fun and don't scream 'mom suit'," blogger Hayes said.
Take Jessica Rey for example, who is not only a swimwear designer, but also a campaigner for modesty or what she calls "decent exposure," saying in a speech that "wearing a bikini does give a woman power; the power to shut down a man's ability to see her as a person."
And while no one wants to see women prevented from wearing bikinis or shamed for their decision to wear a two piece, for the time being more choice certainly seems to translate into more confidence.
So wear whatever you want to the beach this year, and let's light a bomb under the bikini body.