Pope Francis Recognizes Church Homophobia, 5 Months After He Defended Traditional Marriage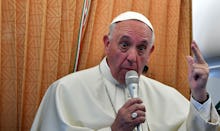 On Sunday, Pope Francis said the Catholic Church should apologize to members of the LGBTQ communities for not being respectful or accepting. While the statement was lauded as a historic development in the church's stance on homosexuality, it missed a crucial caveat.
Just five months ago, Pope Francis reiterated the church's attitude toward same-sex marriage when Italy's senate debated legislation — which was voted into law in May — that would legalize civil unions for same-sex partners. At the time the pope said, "There can be no confusion between the family God wants and any other type of union."
Yet over the weekend during a press conference aboard the papal plane, Pope Francis said, according to CNN, "I repeat what the Catechism of the Catholic Church says: that they must not be discriminated against, that they must be respected and accompanied pastorally."
He took his call to action a step further, saying Christians owe a number of other marginalized groups apologies as well. "I believe that the church not only should apologize to the person who is gay whom it has offended, but has to apologize to the poor, to exploited women, to children exploited for labor; it has to ask forgiveness for having blessed many weapons," the pope said. 
Pope Francis has distinguished himself from his predecessors with progressive statements advocating for the Catholic Church to welcome those who it has historically cast out or alienated. 
However, his remarks about the LGBTQ communities were particularly salient on Sunday, when in New York tens of thousands marched in the city's annual Pride March. Pope Francis' statement also follows this month's shooting in Orlando, which, amid the unspeakable grief the tragedy left in its wake, has also sparked reflection on the state of LGBTQ discrimination in the United States and worldwide. 
In the past, Pope Francis has made clear his intent to be accepting of gay people, saying in 2013, "Who am I to judge them?" and in 2014 urging parents of gay children to "stand by their son or daughter."
"No pope has said more welcoming words to LGBT people than when Pope Francis today offered his recommendation that the Church — indeed all Christians — should apologize for the harm religious traditions have caused to LGBT people," Francis DeBernardo, executive director of Catholic gay rights group New Ways Ministry, told CNN. 
"The pope's statement was simple, yet powerful, and it fell from his lips so easily."
Read more: