Chloë Grace Moretz Reveals the Powerful Thing She Learned by Not Getting a Butt Reduction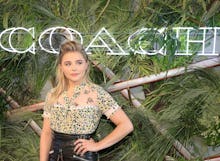 Chloë Grace Moretz did not wake up like this — and she's proud to admit it. While she may be among Hollywood's more famous young faces, she's adamant about staying real when it comes to the pressures she and her contemporaries face.
In a recent interview with Elle, the 19-year-old star opened up about body image and why, ultimately, she's decided not to go under the knife to achieve Hollywood's unrealistic ideal. 
"When I was 16," she told the magazine, "I wanted a boob job. I wanted the fat pad under my chin to be removed. I wanted a butt reduction, or whatever. And my mom said, 'Absolutely not, you're not allowed to have plastic surgery.'" 
"Because of that, I found a lot of power within my insecurities," she continued. "They're what make me who I am now."
Moretz, who attracted criticism for her clap back at Kim Kardashian West following the reality TV star's release of an internet-breaking nude selfie in March, is a strong advocate for body positivity — just not the Kardashian West brand, which she sees more as a thirst trap and less an opportunity to celebrate individual beauty, flaws and all. 
That's why Moretz aims to "keep in natural," serving as her version of a realistic role model for young women. She insists on achievable hair and makeup in ad campaigns and refuses to post heavily filtered selfies to social media. She's gotten hair extensions, she said; she works out every day; she's strict with her diet, and she's not going to hide any of that. 
"I try to break barriers," she said. "I want to be as natural as can be. And I want to break it down for young women so they understand that you're not just 'born' like this." 
"Sometimes you have to fight for and work for things, and be happy with who you are at the same time," Moretz added. "And that's a really hard balance but I want to show it to young women."
Read more: