The 'Game of Thrones' Opening Credits Made a Welcome Change for the Season 6 Finale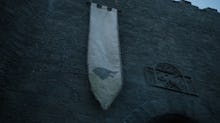 As if the "Battle of the Bastards" wasn't enough to signify that House Bolton is officially done for, HBO drove the final nail into the coffin with a subtle, but quite welcome, change to Game of Thrones' opening credits. 
Ever since the Boltons took Winterfell, the opening credits for the show displayed the Boltons' house sigil — charmingly, a flayed man — as a sign of who ruled the North (prior to that, when Winterfell had been torched following Theon's brief takeover, it was enveloped in smoke in the credits). 
However, now that Jon Snow and the Stark forces have defeated the Boltons, the sigil of the rightful rulers of the North, House Stark, is back in place during the Winterfell portion of the opening credits for the first time since season two. 
So the Starks' iconic direwolf sigil once again rests atop the castle. Though it was an understated move in the grand scheme of a season finale that featured a plethora of deaths, eagle-eyed fans were quick to gleefully point out the change on Twitter. 
The North remembers, as does HBO, it seems. 
Read more: