In 'Voisine v. US,' SCOTUS Just Ruled People Convicted of Domestic Violence Can't Have Guns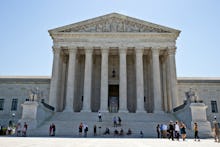 On Monday, in the case of Voisine v. the United States, the United States Supreme Court handed down a decision that prohibits people convicted of domestic violence from possessing guns in a 6-2 vote, according to SCOTUSblog.
"This was the case of two Maine men who were convicted on state domestic violence charges and then found with firearms and charged with violating a federal law that prohibits domestic abusers from having firearms," SCOTUSblog's Amy Howe wrote in the live blog. "The question was whether their convictions qualified under the statute."
This decision follows this month's mass shooting in Orlando LGBTQ nightclub Pulse, which claimed the lives of 49 victims and injured 53. In the wake of the tragedy, Sen. Chris Murphy (D-Conn.) held a 15-hour filibuster and Rep. John Lewis (D-Ga.) led a sit-in in the House of Representatives, both calling for action on gun regulations. 
In February, the Voisine v. the United States case moved Justice Clarence Thomas, famously silent, to ask his first question during oral arguments in 10 years. At the time, he asked U.S. Assistant to the Solicitor General Ilana Eisenstein whether "recklessness" is reason enough to warrant a "lifetime ban on possession of a gun, which, at least as of now, is a constitutional right." 
Thomas was one of two justices who didn't vote in favor of Monday's ruling, joined by Sonia Sotomayor, who dissented to the decision in part. 
The caveat of "recklessness" played a major role in the Voisine v. the United States case. In a March SCOTUSblog post, Rory Little reported that justices hotly debated whether "the 'ordinary meaning' of 'use of force' can encompass 'reckless behavior,'" and whether common law recognized "reckless battery."
According to the court's decision, "Both men argued that they were not subject to §922(g)(9)'s prohibition because their prior convictions ... could have been based on reckless, rather than knowing or intentional, conduct and thus did not qualify as misdemeanor crimes of domestic violence."
Ultimately, six of the justices decided that "recklessness," especially in the case of domestic violence, is far from unintentional, thus blocking anyone convicted of domestic violence from possessing a gun.
The document reads, "Reckless conduct, which requires the conscious disregard of a known risk, is not an accident: It involves a deliberate decision to endanger another."
June 28, 2016, 10:40 a.m.: This story has been updated.