Gov. Bob McDonnell's Bribery Convictions Overturned by US Supreme Court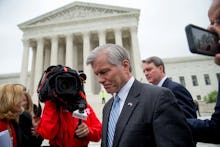 On Monday, the U.S. Supreme Court unanimously vacated Virginia Gov. Bob McDonnell's 2014 conviction on 11 charges related to public corruption, ensuring the Republican former official will never spend a day in jail for any of his alleged wrongdoing.
McDonnell had been convicted of accepting over $165,000 in lavish gifts and loans from a businessman involved with a dietary supplement company. In exchange for the $165,000, McDonnell arranged "meetings to connect Williams with state officials, a luncheon Williams was allowed to throw at the governor's mansion to help launch the product and a guest list Williams was allowed to shape at a mansion reception meant for health care leaders," according to the Washington Post.
At issue was whether McDonnell's arrangement of meetings with other officials constituted "an official action" — and thus bribery — or simply a payment for access, which is generally considered legal.
"Setting up a meeting, calling another public official or hosting an event does not, standing alone, qualify as an 'official act,'" Chief Justice John Roberts wrote for the court. "Because the jury was not correctly instructed on the meaning of 'official act,' it may have convicted Governor McDonnell for conduct that is not unlawful."
Some legal analysts, including the Atlantic's Jeffrey Toobin and Slate's Dahlia Lithwick, had warned a ruling in McDonnell's favor could essentially legalize bribery by requiring an unrealistically high standard of evidence demonstrating a clear quid pro quo. Others, such as Bloomberg's Noah Feldman, cautioned that, like in the Citizens United decision expanding corporate cash in politics, the Supreme Court may have traded "common sense" restrictions on money in politics for an expansive and unpopular definition of money as free speech.
Roberts added that, while the details of the case may be "distasteful [or] it may be worse than that," the court was more concerned with "the broader legal implications of the Government's boundless interpretation of the federal bribery statute."
According to BuzzFeed's Chris Geidner, "McDonnell can be retried, however, if the lower court continues to believe there is sufficient evidence to do so under the new standard set forth by the Supreme Court on Monday."
Read more: