#DickPrintsBreakTheInternet Is Encouraging Thirsty Dudes to Post Their Bulges on Twitter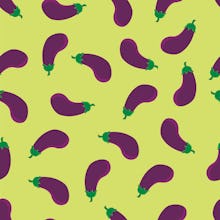 A penis. A thin layer of fabric. A high level of thirst.
These are the only three ingredients you need to contribute to the latest trending hashtag that aspires to break the internet. It's called #DickPrintsBreakTheInternet! 
As its name suggests, #DickPrintsBreakTheInternet is a destination where you can find pictures of various thirsty (AF) men manipulating their pants and/or undergarments so as to reveal the general outline of their penises. This is colloquially known as a "dick print," a term that Urban Dictionary tells us has been around for at least a decade.
Warning: Things are about to get NSFW.
Though the hashtag just took off this week, the petition for dick prints to break the internet was first formally filed via a tweet on June 11.
"Can we figure out how to get it started?" asked @BlvckWidow11. "For teaching basic anatomy purposes?"
While this hashtag is new, the cauldron of dick print thirst has been bubbling for quite a while now.
Some of the first men to really stir it up were rappers B.o.B. and the Game, who have been known to set the Gram ablaze with images of their weenie outlines. B.o.B.'s watershed dick print photo, captioned #EggplantFriday, was first posted way back in December 2014. It took just about five months for the hashtag to be banned from Instagram for being just a little too dicklicious.
What might one's motivation be for posting a dick print pic? Perhaps the appeal lies in the fact that it's a way for guys to brag about their big dicks to the world without going so far as to post an *actual dick* pic on social media.
"I can't help it if you can see my dick through my boxer briefs," you can pretty much hear these dudes saying with their body language. "I guess I'm just that huge!"
Or maybe it's just a blatant thirst trap thing. Probably both! Who knows!
Either way, the fact that #DickPrintsBreakTheInternet is now trending would seem to suggest that we have in fact reached Peak Dick Print.
Better than the actual dick prints are the snarky and humorous reactions to the dick prints — of which there are plenty!
Read more: • #FatAssesBreakTheInternet Is Encouraging People to Flaunt Their Curves• Let's Take A Moment To Remind Everyone That Male Butt Play Is A Good Thing