Today's Supreme Court Rulings Could've Been Devastating for Women — Instead, They Won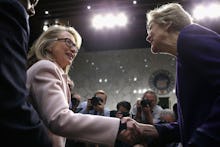 It was a close call, but today is a momentous victory for women's rights in America. 
In two separate cases, the Supreme Court ruled in favor of abortion rights in Texas and ruled that people convicted of domestic violence cannot purchase guns. 
Then, Sen. Elizabeth Warren made her first public campaign appearance for Hillary Clinton. Now that the Clinton camp is vetting Warren for the VP nomination, perhaps there's some hope that some Bernie Sanders supporters could get behind a potential Clinton-Warren ticket.
With the SCOTUS rulings and the heightened possibility of an all-female presidential ticket, here's the breakdown on why today was a big win for women:
The Supreme Court ruled in favor of abortion rights 
In a 5-3 ruling in Whole Woman's Health v. Hellerstedt, the Supreme Court stood in favor of reproductive rights by striking down abortion restrictions in Texas. 
HB2, or House Bill 2, is a bill with provisions that implemented restrictions on abortion procedures. HB2 enforced two requirements for abortion clinics in Texas: they must have the same standards as outpatient surgical centers and for doctors performing the procedure to have "admitting privileges" at another hospital within 30 miles of a clinic. 
These excessive restrictions also contributed to the shutdowns of more than half of all abortion clinics operating in Texas since 2013 — the year HB2 was passed. 
The Court's decision is a symbolic moment for the advancement for reproductive rights, and serves as a major blow to groups aggressively pushing anti-abortion laws in about 24 states over the past few years. 
More importantly, as Guardian columnist Jessica Valenti writes, the Court sent a powerful message for women's rights: masking abortion restrictions as efforts to protect women's health is unconstitutional. 
The Supreme Court stands for gun control and against domestic violence
In the ruling of Voisine v. the United States, the Supreme Court ruled 6-2 that individuals convicted of domestic violence should be prohibited from purchasing firearms. More importantly, the court case sheds light on gun violence within the scope of domestic abuse and violence against women.
"This was the case of two Maine men who were convicted on state domestic violence charges and then found with firearms and charged with violating a federal law that prohibits domestic abusers from having firearms," according to Amy Howe of SCOTUSblog.
Kiersten Stewart, the director of public policy for Futures Without Violence, a women's rights nonprofit organization that filed a brief in the court case, said the arguments used by the plaintiff undermines the truth about domestic violence. 
"The argument that the petitioners are making [is] that the law calls for physical force, and so if it's not seriously physically violent, then that shouldn't count," Stewart told Refinery29. "A victim of domestic violence will tell you that if her abuser slashes her tires, cuts up her credit card, and threatens her family — those are all very real things that are just as terrifying, often, as physical violence."
The timing of the decision is also significant: It comes weeks after Omar Mateen — who reportedly beat and tortured his ex-wife — killed at least 49 people and injured dozens others in a mass shooting at gay nightclub Pulse in Orlando, Florida, with guns he purchased legally.
With this ruling, the Court acknowledges the severity of domestic violence and provides a legal framework that hopes to prevent domestic abusers from endangering people around them and their communities.
Elizabeth Warren and Hillary Clinton joined forces on the campaign for the very first time
In a campaign rally in Ohio, Warren made her first public campaign appearance with Hillary Clinton. This moment might have seem unlikely months ago when Warren was the only female Democratic senator — out of 14  — who didn't attend a Clinton fundraiser in December. However with Warren's latest endorsement, some experts say she might be able to attract the more left-leaning Bernie Sanders supporters into joining Clinton's camp.
Warren and Clinton shared the stage and made ferocious jabs at the presumptive Republican presidential nominee Donald Trump — and the timing was impeccable. The duo reminded the American voters of Trump's misogynist and bigoted comments throughout the campaign and warned of the catastrophic damage he would create if he were to become president.
A few women's advocacy groups have already released statements expressing the same sentiment about what women's rights would look like under his leadership.
Naral Pro-Choice America released a statement that Trump will be "committed to appointing justices who will once again make abortion illegal across the country." In an statement, Emily's List President Stephanie Schriok said "extremist Republicans like Donald Trump should take note. Women are paying attention and you'll be hearing our voices loud and clear come November."
While November is just a few months away, history is clearly already in the making. And women's rights may finally be at the forefront.
Read More: