Women, Celebrities, Politicians React to Supreme Court Striking Down Texas Abortion Law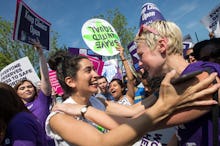 Monday was one of the most historic days for women in American legislative history. 
The Supreme Court struck down Texas legislation, HB2, restricting abortion rights in a 5-3 vote. 
Presumptive Democratic nominee Hillary Clinton hailed the Supreme Court's decision on the Texas abortion law, writing on Twitter, "SCOTUS's decision is a victory for women in Texas and across America. Safe abortion should be a right — not just on paper, but in reality."
"The fight isn't over," she continued. "The next president has to protect women's health. Women won't be 'punished' for exercising their basic rights."
Clinton wasn't alone in celebrating Monday's step forward for women's rights and protections across the nation. Check out some reactions to the Supreme Court's progressive day below:
Planned Parenthood celebrated, writing, "The burden is undue!"
Democratic leader Nancy Pelosi 
New York Governor Andrew Cuomo 
Singer and Ultimate Twitter Queen Cher
Filmmaker Michael Moore 
Author Anne Lamott
Texas Congressman Joaquin Castro
New York City Public Advocate Tish James
Executive Women's Editor For Huffington Post Emma Gray
Gender equality advocate Wendy Davis
Read more: