How Much Are Beanie Babies Worth? These Are the Childhood Toys Worth Selling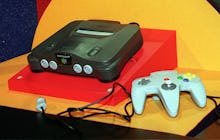 The Nintendo 64 turned 20 on Thursday. If you grew up in the '90s, it's a great time to pay tribute to the console that kept your lungs strong.
But you're all grown up, and it's about time you traded in the nostalgia for some cold hard cash. A used Nintendo 64 is still worth over a thousand bucks. Hold on to a few things dear to your heart, but also do your parents a favor and finally get your childhood crap out of their place.
Here are the childhood toys that can still turn a profit.
Password Journal: $60.48
New, in pink
Let MiniCuteCupcakes tell you about it.
Easy Bake Oven: $64.99 
In the package.
Sega Game Gear: $67.15
"Nice, working, clean."
From an old ad: "Now you can play with yourself for hours with SEGA's hand held, full color games system... IT WILL FULFILL YOUR WILDEST FANTASIES for only 99.99! BATTERIES NOT INCLUDED."
Sky Dancers: $75.00 
In the package.
"The doll starts to twirl; its wings lift, by virtue of aerodynamic design, until all at once the Sky Dancer has risen free of its base and whizzed straight up in the air, winged arms whirring like a helicopter blade," the New York Times wrote in 1994. "The girls respond in a hushed chorus: 'Cooool!'"
Tickle Me Elmo: $100.00
In the package.
"The fuzzy red Muppet doll vibrated into the national consciousness at the start of the holiday shopping season without warning," CNN reported in 1996.
Two, in their package, Looney Tunes edition.
"These digital critters are the hottest creatures on the planet right now," the Chicago Tribune reported in 1997. "Owners have to feed, clean and play with their mini-screen pets (it's all a matter of pushing the necessary buttons); the better care the owners take, the longer the pets live and the happier they are."
Betty Spaghetty: $119.99
"HUGE Betty Spaghetty LOT."
Electronic Dream Phone Game: $119.99
Used, in working condition.
"Take Dream Phone (ages 9 and up), which comes with a battery-powered pink plastic telephone on which to dial the numbers of 'cute guys' to get a clue about your 'secret admirer,'" according to a 1995 Washington Post article. 
In the package.
Nintendo Power Glove: $249.99
In the package.
Talking Baby Sinclair: $300.00
In the package.
"I'm the baby."
15 of them, used. Dead or alive.
"An amazing fad has captured the imagination of preteens, a fad so mindless, so lacking in humane features that its fascination must be related to a form of mind-numbing desensitization," the Chicago Tribune reported in 1997.
New with all the fixins (cassette and book).
"Ruxpin sells from $60 to $100, but 'it's worth it,' admits a Chicago woman who bought one for her son, 'because I don't have time to sit down and read to him,'" People reported in 1985.
In the box, but with some wear.
"Even though the toy was targeted primarily to girls, Jones and a colleague, former Acclaim videogame designer Simon Gouldstone, wanted Furby to have some traits that would appeal to boys," Wired reported in 1998. "So they introduced belching and farting into the toy's database of actions."
Sega Dreamcast: $490.00
Brand new, baby.
"Dreamcast is critical to Sega as long as Sega wants to be a hardware vendor," John Taylor of Arcadia Investment Corp. told CNN in 1999. The Dreamcast was discontinued in 2001.
Game Boy Color: $589.89
New. Excellent.
"Sure, the new unit can display 56 colors at a time and has a new screen that shows much sharper images than the old unit," the Chicago Tribune reported in 1998. "But the most significant upgrade is the increase in memory. As a result, scrolling and animation are noticeably smoother, and new games can be more elaborate."
A "gigantic lot" of them.
As the Orlando Sentinel reported in 1991, "sometimes something is so ugly it's cute."
Littlest Pet Shop Collection: $722.00
An "insanely big" collection.
Used, but a ton of them. 
"'Pollys are the preschool rage right now,' said Valerie Parrish, the mother of three Polly fiends, ages 5 and 3," the Chicago Tribune reported in 2004.
Cabbage Patch Doll: $949.00
Used. Signed. Still creepy.
"ATTENTION!" People reported in 1983. "There is one sure way to prevent disaster. ONE MILLION GENUINE CABBAGE PATCH KIDS MUST BE DELIVERED TO ADOPTION CENTERS BY DEC. 24! Since hospitals on Earth cannot fulfill this quota, request High Command to SET UP EMERGENCY DELIVERY ROOMS IN OUTER SPACE AND LAND CPKs ON EARTH AT USUAL SITES!"
Never opened. Rough childhood. 
New. Woof.
"So with a robotic pet and servant on the market — and robotic vacuums and lawn mowers on the way — is the automated world of the Jetsons actually poised to become a reality?" the New York Times reported in 1999. "Even robotics enthusiasts are not so sure."
Used! 
"When, in 1983, the My Little Pony brand first graced the shelves of America toy stores, the world had fallen into darkness and was in desperate need of good cheer," an open letter to the makers of My Little Pony read in 2008.
Garbage Pail Kids: $5,000.00
The whole skeevy series. Unopened. 
"They resemble Cabbage Patch Kids and they may be cute in their own way, but their own way is best described as gross," the Chicago Tribune reported in 1986.
Princess Diana Beanie Baby: $50,000.00
Handled with care. 
You can raise 1/10th of a child in in the U.S. with that money.