This 7-Year-Old Wrote a Book to Prove Black Girls Can Be Princesses, Too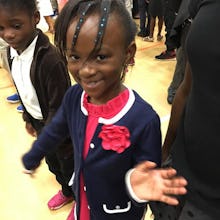 Todd Taylor's nickname for his 7-year-old daughter Morgan was "Princess," but one day she told him he couldn't call her that anymore. 
Morgan told Today that she explained to her father, "I love it when you call me a princess but I know I am not really a real one ... Real princesses were vanilla and I can't really be a princess."
Almost all of the princesses in movies and books Morgan had seen were white. "I received the biggest wake-up call," Taylor told Today. So he and his daughter researched women leaders of color — and found that, actually, there are a lot of stories of black and brown princesses. 
Morgan and her dad decided to write a book together, so other kids could learn about inspirational princesses of color, like Princess Elizabeth of Toro, who was the Ugandan ambassador to the United States, and King Peggy of Ghana, a woman chief in Ghana.
Their book, Daddy's Little Princess, is out now, and Morgan and her dad say the response has been overwhelmingly positive, and Morgan is just happy to be spreading stories of positive role models to other little girls of color.
"Every little girl should believe she's a princess," the now 7-year-old told local outlet WFMY.
Read more: