NYC Dyke March Was the Day Before Pride — Here's Why You Didn't Hear About It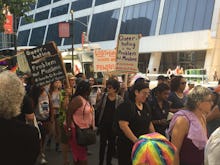 As it crept up on 5 p.m. Saturday evening in New York City's Bryant Park, there was some confusion. Amid the throngs of tourists and picnickers, a steady stream of people began to line up on the park steps, greeting friends, adjusting outfits and some, already, waving rainbow flags. A man in the crowd, looking out onto the scene, said, "That's a lot of women."
He was right. But among the women were transgender men, as well those who identify as agender, binary and a number of sexual orientations and gender identities, who were all rallying together for the city's 24th-annual Dyke March. The event, which takes place each year during Pride month, is for anyone who identifies with the word "dyke," according to one of the march's organizers, Rebecca Triglianos.
"There are a lot of different ways to be a dyke and all the more reason we need a space to be visible to one another and to the world," Triglianos said. "Men's interests have historically controlled LGBT agendas — and all agendas — making everything else invisible. We march to be seen."
Though they may possess different beliefs, politics or manners of expressing themselves, Triglianos and the other people participating in Dyke March are on the same page about one thing: It's a march, not a parade.
"We do not ask for permission to exist, as it is our right to demonstrate," said Triglianos, who explained that Dyke March happens every year without permits or sponsors. "We do not need, or want, the financial backing of corporations."
Instead, organizers hold fundraising events throughout the year and train their own marshals to lead the parade and keep marchers safe as they make their way down Fifth Avenue to Washington Square Park. 
"Our fight for equality is not an advertising opportunity," Triglianos said. It's a direct response to the NYC Pride March, which would come the following day and enjoy sponsorship from the likes of Wal-Mart, Delta, Wells Fargo, Netflix and Facebook. 
The question of whether a corporate presence belongs at a parade that was born out of a moment in civil rights history — the 1969 Stonewall riots — is a debate that's raged in recent years.
In 2012, Amy Drayer, then-vice president of strategic initiatives of the Colorado community center that produces Denver PrideFest, told U.S. News & World Report, "A larger festival is a better investment for a national company." Missy Toms, identified as a spokesperson for Washington, D.C.'s Capital Pride, agreed, telling the outlet, "You have a large number of allies who come to the event. [If you don't sponsor,] you're missing that whole market too."
But NYC Pride Media Director James Fallarino said he believes corporate sponsors don't necessarily diminish the political message of Pride. In fact, he said their participation made it possible for the roughly 2 million to attend Pride events this year.
"I understand people's concern," he said in a phone interview on Tuesday. "Obviously corporations are very present in all Pride events, including ours. But they're willing to step up and provide [funding] and it allows us a platform for our issues to be expressed in a public way."
NYC Pride's corporate sponsors, said Fallarino, also make up just 10% of the groups in the march.
"I think that this is a way for businesses to show that they are supportive of the LGBT community and LGBT consumers are very aware of that and want to put their dollars toward businesses that are supporting them," said Fallarino. "This is the most visible way to say, 'We're here with you and we stand with you.'"
Though it's become almost standard for businesses to announce their political stances, and for people to consider them a factor when deciding to whom to give their money, Ali Osworth — an editor at Autostraddle, a website covering feminist and LGBTQ issues — prefers the Dyke March distance itself from corporate sponsors.
"Pride is really corporate and has sort of become for straight people and allies who want to go to a party," Osworth said Friday in a phone interview. "That's fine, but Dyke March isn't that — it's civil disobedience; it's a protest."  
Osworth, who's never been to the Pride March, said while it's important to have spaces where allies feel welcome, even more pressing is the need to preserve spaces for LGBTQ people. If her straight friends ask to march with her, Osworth tells them no — but they can cheer her on. 
"The rest of the world is assumed as a straight, normative space," Osworth said. "It's good to know that at Dyke March you're with family and that the purpose it serves is for me."
"When I was younger it was really fun and a party, and now that I'm a little older it's like, I'm proud every day and I don't need a day to get drunk and show it," said Liz Rubel, 26. "I just think the Dyke March is more supportive."
Rubel said this is the first year she's questioned whether or not she wants to go to the Pride March; she usually attends both, but has been "turned off" by the commercialization of the Pride March, saying it's "easier to be political" at the Dyke March. 
As Rubel explained herself, a few feet away someone gave an impassioned speech and a group called the Central Committee of the Revolutionary Communist Party wove through the crowd, handing out flyers reading, "Time to get organized for an ACTUAL REVOLUTION." Later, as marchers took off down Fifth Avenue, the group brandished a banner reading, "For an actual revolution, get ready to bring this system down to bring something better into being," a popular critique against those who'd believe same-sex marriage is the end game for LGBTQ rights.
"Pride is a celebration, but Dyke March is that and also a statement that we have so far to go," Osworth said. "We have so far to go specifically for this community of people who often gets booted out of the center of their own community in terms of how external communities view ours." White, cisgender men, she noted, are often at the nucleus of Pride events. "This is a nice recenter," she said.
Ali Scarcella, who was attending Dyke March for the first time with Rubel, said the march simply had a "completely different feel" than the Pride March. 
Still, she said both celebrations of LGBTQ people serve a crucial function. 
"I think it's good to have the allies with you to celebrate," she said. "It's nice to have a space where you all identify with the same category, but you need the supporters and you need the allies as well."
Correction: June 28, 2016