Ray J's Manager Responds to Kanye West's 'Famous' Video With Sexist Kim Kardashian Diss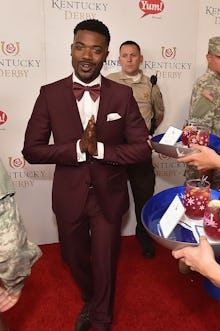 When asked about Kanye West's depiction of Ray J in his new music video for "Famous," Ray J's manager, Wack 100, fired back with a sexist comment that had nothing to do with West himself, but with West's wife and Ray J's former flame Kim Kardashian. 
"If they didn't show Ray J with his dick in Kim Kardashian's mouth, then tell Kanye to go back and reshoot that shit," Wack 100 told TMZ. He then added that West is "a long way from Chicago, he'd better watch his motherfucking mouth."
Ray J, on the other hand, avoided answering the TMZ reporter's question, but told Entertainment Tonight that his (waxy) appearance video "ain't cool." He added, "Don't put me part of nothing that's weird, that don't make no sense. Can I grow up?" 
Kardashian West and Ray J dated back when she was in her early 20s, with their sex tape going public in 2007.
In the song "Highlights," from West's The Life of Pablo, West sings, "I bet me and Ray J would be friends if we ain't love the same bitch. Yeah, he might have hit it first. Only problem is I'm rich."
That association pretty much earned Ray J's spot in West's NSFW music video, which is basically several celebrities, ranging from Donald Trump to Rihanna and Taylor Swift, lying together naked in a giant bed and acting out Vincent Desiderio's "Sleep" painting.  
Read more: