Twitter Users Claim Jesse Williams Benefits From "Light-Skinned" Privilege. He Agrees.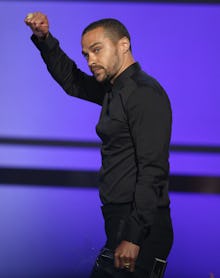 When actor/activist Jesse Williams took the stage to accept the Humanitarian Award at the 2016 BET Awards Sunday night, no one expected the TV star to issue a revolutionary call to action on racial inequality, police brutality and cultural appropriation. 
"This is for the real organizers all over the country – the activists, the civil rights attorneys, the struggling parents, the families, the teachers, the students that are realizing that a system built to divide and impoverish and destroy us cannot stand if we do," Williams said to the audience packed with celebrities at Los Angeles' Microsoft Theater. 
Williams went on to talk about black victims of police violence — including Tamir Rice, Rekia Boyd, Eric Garner, Sandra Bland and Dorian Hunt — and slammed those who have profited from black culture while giving nothing in return to the community. Celebrities like Marc Lamont Hill and Jada Pinkett Smith praised Williams' remarks, calling his impassioned speech the "blackest moment in black awards show history" and a "must watch."
But the speech also had its critics. On Twitter, several users claimed that Williams may only be receiving this attention because he's a light-skinned biracial man:
The activist himself has never shied away from speaking about his privilege.
In January, Williams received the Drum Major for Justice Award at the Southern Christian Leadership Conference of Southern California (SCLC-SC) Legacy Awards Gala in Los Angeles. In his acceptance speech, he acknowledged the ways being a light-skinned black man has helped further his entertainment career.
"European beauty standards have given me a better seat at the table and the favor of the microphone over my darker brothers and sisters my entire life," Williams said.
Williams touched on the same topic in an interview with The Guardian in October. 
"To some people I might be a celebrity because I'm physically attractive. We are programmed to believe that someone is attractive because they told you that blue eyes are hot. I am not going to participate in that shit," the activist told The Guardian. "I aim to do what I can with what I have. And I have my [looks] – you know, European beauty standards give me access to things." 
Other users on Twitter recognized the value of Williams' remarks despite the privilege having lighter skin has afforded him.