Maxwell Talks New 'blackSUMMERS'night' and Creating Music "In Solidarity with Others"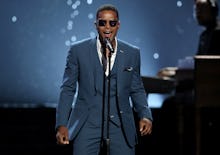 After seven years of silence, Maxwell is back. 
Long known as one of the early masters of modern, spiritually conscious soul music, the legend announced his return Sunday at on one of the biggest stages for black music — the BET Awards. In addition to his flawless Prince tribute, he sang "Lake By the Ocean" off his upcoming album, blackSUMMERS'night, his grittiest and most poetic yet. It's an aesthetic he credits to experience. 
Maxwell got his start singing Baptist gospel in New York City, releasing his first commercial album, Maxwell's Urban Hang Out Suite, in 1996. Those funky American romances were as easy to sing along to as they were to contemplate in silence, and it found major critical success. BlackSUMMERS'night, is his fifth and the second of a trilogy, following 2009's similarly titled BLACKsummers'night. 
Every one of his songs feels committed to alleviating pain and reaping love's harvest, as the best American soul does. I interviewed Maxwell about blackSUMMERS'night. We didn't spent the entire time speaking about the obvious blackness or the festivity of it, as I expected we might. But his answers to my questions seemed to relate a singular philosophy: that we take the time to feel and also to fulfill our dreams. 
Our conversation ended with his wishing me good luck on the writing of this article, as if he was in the end my brilliant Uncle Maxwell, lord of both the summer party patio and advice on matters of the heart.
Mic: How would you present your new album blackSUMMERS'night to listeners?
Maxwell: It's hard to describe. I'd say that it's a continuation of the last one. It's an album about trying to find love. It's sonically grittier than usual and I'd say that this album is much more poetic. I consider this an album of campfire songs that can be played forever. The age that I'm at really gets it out of you. 
Why'd you name the album blackSUMMERS'night?
M: It's part of a trilogy: black being part 1, summer being part 2, night being part 3. It's an open-ended title. The name is what felt good to me.
I hate to be the person to have to label this album "neo-soul." Instead, what would you say are its spiritual undercurrents?
M: I'd say that this album is all about the fact that we all live mandatory lives and that we should all seek to live passionately as we live these lives. I'm 43-years-old now; I'd like to drive the fact home to the youth in terms of setting personal goals. It's all about getting to dream.
"Though my music is not political, it is recorded and performed in solidarity with others."
Your lyrics are always superb. How do you craft your lyrics?
M: They just happen. The melody, the lyrics — they just unfold and I keep on going. I'd love to tell you that I sit on a rock and feel inspired but, no, it isn't the case. It all comes together. 
Any poets or songwriters who inspire your lyrics and your music in general?
M: I like Khalil Gibran. I mean hundreds do at this point [laughs]. I'd say the Bible and I'd also say Shakespeare inspire my work.
Your most recent video for the song "Lake By the Ocean" features a woman dancing in Jacmel, Haiti, possessed by your singing. I feel the perfect allegory for what your music does to both women and men is that it transcends its listener. Is that your music's ambition?
M: In my songs, I'd like to address the parts of a person that are vulnerable and weak. Sort of in the same way that, for example, Michelle Obama cares for the body and mind of our president and all the moments and transitions that he goes through. 
My music is an expression of my concern for others and I participate as much as I can in helping people in need. I've helped with many causes such as coming to the aid of sex-trafficking victims. I give back in my own sneaky way and it's an integral part of my person. Though my music is not political, it is recorded and performed in solidarity with others.
I consider you an elder statesman of American song, to be honest. Is blackSUMMERS'night an elder statesman's album — one who is conscious of his place in our culture's history?
M: I don't feel wise. I just keep going. I'm just obsessed with the craft of making music, and [viewing] it not as a stepping stone — but all about the music. I'd say that at this point in my life, at this age, I just do not want to put on an act for others. I don't want to be narcissistic about life: Another photo is just another photo. I just want to watch a movie, read a book and live my life. I'm at an age where I'm living for the simpler things.
Read more: 
June 29, 2016, 10:38 a.m.: This story has been updated.