People Are Criticizing Disney's Portrayal of Polynesian Demigod Maui in 'Moana'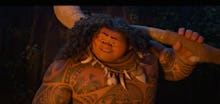 While Disney's upcoming animated film Moana — in which Dwayne "The Rock" Johnson voices the boisterous Polynesian demigod Maui, who helps guide the young protagonist Moana to completing her coming-of-age quest — has been heralded for its diversity, it's also now come under fire for what some people feel is a racist depiction of Polynesians.
Critics said Maui's larger physique is misrepresentative to real Polynesian culture, and instead reinforces harmful stereotypes of Polynesians being obese. 
"This depiction of Maui being obese is typical American stereotyping," Will Ilolahia from the Pacific Media Association told Waatea News. "Obesity is a new phenomena because of the first world food that's been stuffed down our throat."
In a Facebook post, Samoan rugby player Eliota Fuimaono-Sapolu pointed out a gap between how white characters are portrayed compared to characters of color by posting a side-by-side image of the Rock, whose mother is of Samoan descent, playing "white demigod Hercules," while only his voice is used to play a Polynesian demigod. "White people telling white stories [versus] white people telling Polynesian stories," he wrote in the caption.  
On Twitter, many others agreed with Fuimaono-Sapolu, saying that Polynesian warriors were fit, and that Maui's cartoon character instead looked more like a "tanned beach ball."
But some think that Maui's cartoon portrayal makes him look like a strong and powerful sidekick to Moana. 
While Maui's illustration may be seen as backwards, Moana, on the other hand, has been raved about as breaking past Disney princess stereotypes by being both more independent than previous princesses, and being one of color. 
Read more: