When Is Season 7 of 'Game of Thrones'? The Next Season Could Be the Shortest One Yet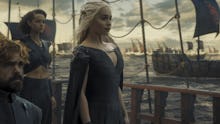 Daenerys Targaryen is finally — yes, finally! — sailing to Westeros, and Game of Thrones fans will get to see how the Mother of Dragons fares back home (and how she handles Cersei's own pyrotechnics). But before we can do that, unfortunately, the series will be off the air for a while. What's more, we might've just watched the last season with a full 10-episode slate. 
Thus far, HBO has only revealed the seventh season will return in 2017, but it's also quite likely we'll be seeing the series in April, given that five of the previous six seasons aired in that month (the lone exception being March 31 for season three). However, that's not where the concern lies for fans. Based on previous inclinations from HBO, we're looking at shortened seasons — two to be exact, and that's it. 
Show runners David Benioff and D.B. Weiss have said as much. In an interview with Variety in April, the duo acknowledged that the show is racing closer to the finish line, with as few as 13 episodes possibly remaining after this year. 
"I think we're down to our final 13 episodes after this season," Benioff told Variety. "We're heading into the final lap. That's the guess, though nothing is yet set in stone, but that's what we're looking at." 
This seems to make narrative sense — the show is whittling down its numerous storylines (it certainly helps when Cersei kills off a huge chunk of the cast in one fiery, fell swoop); the White Walkers could finally be marching south next season; and Jon Snow's true parentage was revealed. 
Of course, the shortened seasons aren't official yet, as Benioff and Weiss could still change their mind. However, at the same time, HBO shouldn't drag on the series just for the sake of ratings, something The Walking Dead seems intent on doing, much to the ire of its fan base. 
If we are reaching the end, fans should enjoy the rest of the Westerosi journey — especially if Arya Stark gets to keep checking names off of her list (the Old Gods and the New willing). 
Read more: