Taylor Swift and Tom Hiddleston Are Literally Modeling Their Relationship After Rom-Coms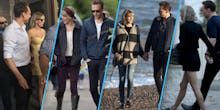 Taylor Swift and Tom Hiddleston are big fans of walking in exotic locales. From the rocks of Rhode Island to the streets of London to the Colosseum of Rome, these jet-set lovers have proven in just two weeks they are always up for a casual romantic stroll.
"Taylor is so happy," an anonymous source said to Us Weekly after the pair was most recently seen doing their thing — walking — on a scenic and lovely beach in England. "She's living a British rom-com dream."
Indeed, each of these paparazzi pictures does emit a vibe of its very own romantic comedy. Swift and Hiddleston are a literal walking rom-com. Therefore, we explored some of Hiddleswift's best moments and matched them to their corresponding rom-coms.
The Hiddleswift moment: Lounging/walking on rocks at a Rhode Island beach 
Swifties collectively freaked out when these photos hit the internet on June 15.
Both the paparazzi photo and the film are set in coastal towns. And both have storylines that center around the theme of finding love again (lest we forget: Swift's breakup with Calvin Harris first became public on June 1).
The Hiddleswift moment: Leaving a Selena Gomez concert in Nashville (Wednesday)
Reports say that at the actual concert, Swift and Hiddleston took a break from walking and danced together.
Not only is Swift's crop top vaguely reminiscent of the one Julia Roberts wore in the movie poster, but Pretty Woman also featured a famous scene in which Roberts and Richard Gere had a date night at the opera, which is basically the same thing as a Selena Gomez concert.
The Hiddleswift moment: Strolling a beach in Suffolk, England (Sunday)
The couple was spotted in Suffolk, England, over the weekend.
Please note how both the paparazzi photo and the movie poster feature romantic oceanfront strolls. Also note that both leading ladies are wearing the same cream-colored sweater while taking their romantic oceanfront strolls — it's a romantic oceanfront stroll staple.
The Hiddleswift moment: Hitting the streets of London with his mum (Saturday)
Before they hit the beach, they did some family introductions.
The Proposal is a story about a shrewd businesswoman who stages a relationship with a man from another country for career-related purposes — and then falls in love with him after meeting his family. Hmmm.
The Hiddleswift moment: Touring the Colosseum in Rome (Monday)
In the latest Hiddleswift adventure, they were seen walking at the Colosseum in the Italian capital of Rome.
Widely regarded as one of the greatest romantic comedies of all time, Roman Holiday — which takes place in Rome and naturally includes shots of the Colosseum — is a classic of the genre. 
Read more: