Trombonist eBONE Underground Reveals the Beauty of Jazz Music in This Secret Concert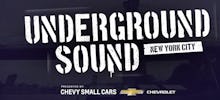 This video is part of a Mic branded content series, "Underground Sound," presented in collaboration with Chevrolet. For more information about Mic's branded content guidelines, please visit our FAQ page.
Jazz trombonist eBONE Underground gets a chance to perform an intimate concert with Sofar Sounds — a service that curates talent and hosts secret gigs.