A Slave May Have Been Behind the Creation of Jack Daniel's Famous Whiskey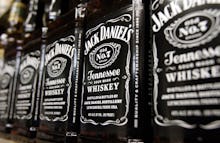 One of the country's most famous whiskey labels is reinventing its fabled history — to give credit to the slave who might have inspired its creation.
The Jack Daniel's distillery tour in Lynchburg, Tennessee has now begun informing visitors its eponymous founder may have learned the arts of distilling not from a local preacher and grocer named Dan Call, but instead from one of Call's slaves, Nearis Green, the New York Times reported.
According to the paper, a variation of the whiskey label's founding myth in which Green was the one to instruct Daniel in distilling, not Call, has been around for decades, though it is only recently Jack Daniel's has begun telling it.
"This version of the story was never a secret, but it is one that the distillery has only recently begun to embrace, tentatively, in some of its tours, and in a social media and marketing campaign this summer," the Times wrote. "... For years, the prevailing history of American whiskey has been framed as a lily-white affair, centered on German and Scots-Irish settlers who distilled their surplus grains into whiskey and sent it to far-off markets, eventually creating a $2.9 billion industry and a product equally beloved by Kentucky colonels and Brooklyn hipsters."
"Left out of that account were men like Nearis Green," the paper added. The slaves who often built and manned the distilleries, as well as provided crucial and innovative ideas for the nascent industry, often had knowledge of their contributions erased to the benefit of the white men who owned them.
Green's contributions to distilling aren't the only slave contributions which have gone largely unmentioned in popular history. As NPR noted in 2011, founding father George Washington's famed spirits were largely made by slaves using his favored recipe. According to the Times, slaves were often advertised as skilled distillers, and may have been particularly useful in the industry beyond their utility as free labor due to a long-standing African distilling tradition.
Read more: