Kanye West's Controversial "Famous" Video Will Air on E!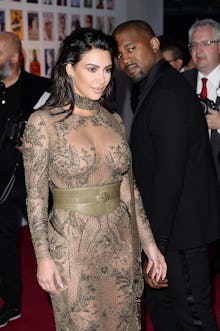 Since its release Friday, Kanye West's "Famous" video has been doing exactly what he intended it to: stir up a media circus and flood the internet with takes. But so far it's has been only been seen by a select few at screenings in Los Angeles and those with Tidal accounts. That will change tonight.
The video will go out to the whole of the cable viewing audience of America, airing in full on at 7 p.m. and 11 p.m. ET on E News followed by a reaction from Kim Kardashian West.
Previously, Lena Dunham called the video's voyeuristic gaze at nude celebrities, ranging from George Bush, Bill Cosby, Rihanna and her abuser Chris Brown "disturbing." Others on Twitter were more into the explicit, provocative nature of the imagery.
Expect a lot more takes where these came from tomorrow morning.