Student Debt Is Stifling Millennial Entrepreneurs and Hillary Clinton Wants to Change That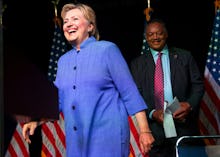 Presumptive Democratic presidential nominee Hillary Clinton will announce a plan on Tuesday to provide student loan relief to "entrepreneurs and innovators" — a proposal she hopes will spur young people to start new business ventures and create jobs.
The proposal will allow aspiring entrepreneurs to "put their federal student loans into a special status" for three years, where the loans will not accrue interest, allowing those entrepreneurs to get their businesses off the ground without worrying about their student debt, a campaign aide told Mic.
And for entrepreneurs who launch businesses and hire workers in "distressed communities," they will be able to apply for loan forgiveness up to $17,500 of their student debt, the aide said.
"Early joiners" of those start-up companies — the first 10 to 20 employees — will also be eligible to apply for the student loan deferral program.
Clinton hopes the proposal will inspire millennials to launch businesses and create jobs.
"A smaller proportion of millennials today are starting new ventures as compared to their predecessors," the Clinton aide said. "This is not for a lack of desire — surveys show that America's millennials are aspiring, enterprising, and independent-minded.
The aide pointed to a recent survey finding that 51% of millennials aspire to start businesses. But nearly half of millennials, or 48%, said paying off student loans has "impacted their ability to start a business," the aide said.
Clinton will announce the policy Tuesday during an appearance at a workforce training facility in Denver, where she'll also lay out a tech and innovation agenda.
Included in the plan Clinton will announce is a proposal to connect every household in the United States to high-speed internet by 2020 — as well as offer free WiFi in public spaces such as airports and train stations.
Clinton will also propose making computer science part of every student's curriculum, a proposal a Clinton campaign aide said will create 50,000 jobs for computer science education teachers.