Who Went Home on 'The Bachelorette?' Here's JoJo's Surprise Rose Ceremony Twist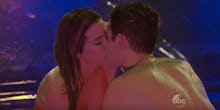 JoJo Fletcher took Chris Harrison's oft-quoted line "there are no rules" to heart on Monday night's episode of The Bachelorette, as she defied the show's typical process of elimination at the rose ceremony. But don't be fooled with the sudden twist: Even the famously hyperbolic host didn't try to pass this snoozefest off as "one of the most dramatic episodes ever." 
(Editor's note: Spoilers ahead for season 12, episode six of The Bachelorette.)
This week, JoJo was courted by her flock of men across Buenos Aires, dancing in a levitating pool with Wells during her one-on-one date and sharing a long-awaited kiss. Luke, Robby, Alex, Aaron Rodgers' brother and James Taylor all accompanied JoJo on the group date, as the contestants visited La Boca district for shopping and exploring the area and James bemoaned his lack of outright douchiness muscles as compared to his fellow contestants. 
JoJo's one-on-one date with Wells provided arguably the most awkward scenes from the show's latest season to date, as she basically had to beg him to kiss her ON THE DATE CARD. And that message still didn't sink in until hours into the date. First, the two shared a high-five — a high-five! — matched with a peck on the cheek that nobody wants to remember. But here's a GIF of it anyway:
Yikes. Later, Wells openly admitted he doesn't believe in everlasting fairytale love, which is not the thing you tell the bachelorette who ostensibly got cast for her ability to curl her hair just so faith in things previously only found in a Nora Ephron movie. Which is to say, JoJo sent Wells back to Nashville. 
JoJo's week capped off with a two-on-one date featuring Derek and painfully bad tango dancer Chase, who somehow managed to convince her his dancing wasn't an obvious reason for his elimination. 
Instead, Derek was sent packing as the three were out for dinner, creating an important opportunity for the show's producers to juxtapose his limo tears with "Don't Cry for Me, Argentina." Oh, Derek — we're not crying, you're crying. 
Yeah, sorry. You're definitely crying. 
At the rose ceremony, however, JoJo was hesitant to continue the bloodbath. The two men on the chopping block, James Taylor and Alex, were spared after JoJo noticed she only had two men, one rose. She lodged a complaint with Chris Harrison who, like a freaking magician, returned with roses for each man. 
And JoJo, who earlier in the episode wondered aloud about the possibility of — like Ben before her — falling in love with two contestants, seems that much closer to becoming everything she hates. 
Tune in next week to watch JoJo and the six remaining men freak out about being on the brink of hometown dates.
Read more: