House Democrats Hit With Ethics Complaint After Gun Control Sit-In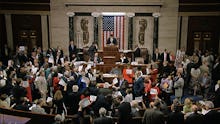 A conservative nonprofit group filed an ethics complaint Monday against House Democrats involved in Wednesday's sit-in over gun violence, saying they violated House ethics rules by fundraising off the stunt, USA Today reported.
The Foundation for Accountability and Civic Trust alleges that Democrats who sent campaign emails with images of themselves at the sit-in on the House floor "used official House resources for political purposes," a violation of House rules, according to USA Today.
House ethics rules state members cannot use images from the Capitol — which are considered "official resources" — in campaign materials.
USA Today reported that two House Democrats, Reps. Jared Huffman of California and Ben Ray Lujan of New Mexico, used photos of themselves at the sit-in on the House floor in campaign emails.
It's unclear, however, if there will be any ramifications for House Democrats involved in the sit-in.
The House, which self-polices on ethics issues, can determine whether to pursue alleged ethics violators. And because the issue of gun control is so polarizing, pursuing an ethics complaint over the issue might not be worth the political blowback, USA Today reported.
House Speaker Paul Ryan, however, called the sit-in a "publicity stunt" that will not be tolerated in the future.
And Democrats have vowed to continue pressing for gun control legislation when the House returns from recess on July 5.
Read more: