Officers' Response to Police Brutality Protest in California Shows Huge Double Standard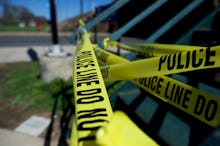 Turns out police love a good ol' protest — depending on who is there. 
Protesters threw glass bottles at Fresno, California, police and shouted, "Fuck the police!" while waving a Confederate flag at an apparent vigil-turned-rally Sunday evening, the New York Daily News reported, citing local media.
The protest took place on the spot where police stopped a suspect, who a report and protesters identified as Dylan Noble, for allegedly speeding on Saturday, the Daily News continued. After the suspect continued to drive for a half-mile before pulling over, he got out of the car and refused to show his hands while walking away.
"The subject made a statement that he hated his life and made affirmative movement to the small of his back," Pat Farmer, Fresno deputy police chief, said, according to local outlet KSEE24.
That's when officers shot the man, who later died in surgery, according to the KSEE24 report.
After a Sunday evening vigil, a group of protesters reportedly gathered after a vigil where mourners had posted up "White Lives Matter" signs. Local reporter Connie Tran tweeted several videos from the scene. According to Tran's account, the crowd blocked the street and chanted "'F' the police."
Tran said police started to make a barricade line to get the protesters out of the street.
According to the Daily News, it's "unclear" if anyone was arrested during the standoff. Tran did not mention any arrests in her Twitter account of the events. 
If Fresno police chose not to arrest any protesters, despite reports of people throwing bottles and blocking roads, this is a clear divergence from treatment of protesters against violence against black Americans.
Black Lives Matter protesters have not gotten the same treatment. After a grand jury decided not to indict a New York City police officer in the death of Eric Garner in Staten Island, police arrested more than 200 people during a night of protests, despite "no reports of violence from protesters," the Daily News reported in December 2014. Two arrests were made at an August rally outside New York City's Barclays Center to commemorate the anniversary of 18-year-old Michael Brown's death, Pix 11 and the Associated Press reported.
Looks like the First Amendment rights to free speech and assembly are only guaranteed when you're waving a Confederate flag. 
Read more: