Woman Tries to Save Caged Husky, Ends Up Being an Even Bigger Hero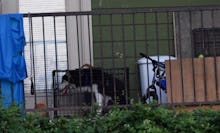 Outraged by what she saw on her neighbor's balcony in Dallas, where temperatures reached more than 100 degrees, Cassandra Clark took action. She called news outlets, Dallas Animal Services and even 911 to report a husky hunched over in a tiny cage — but no one was responding fast enough. So, she took her call for help to social media. 
Clark noticed the crying husky when walking her own dogs a few days before her June 20 post. The husky had no food or water, she said. Apparently, the dog was routinely kept outside for a few weeks and inside for only a few days. When contacted, Dallas Animal Services said it would take at least 24 hours to respond, and 911 said there was "nothing they can do."
"Come on people," she wrote in the post. "You cannot have the privilege of owning a dog if it's like this. Where's [sic] is animal right activists of Dallas?!"
Clark posted the photos on Facebook, which soon went viral, and finally led to a faster rescue of not only the husky, but allegedly 12 other animals, including another husky and kittens, kept in poor conditions inside the household. 
"You never know what you're gonna find," she said, according to local television station KTVT. "You have to speak for those who can't speak."
The rescued animals will soon be put up for adoption, according to KTVT.
Read more: