Lady Gaga Has Been Banned From China for Talking About Love With the Dalai Lama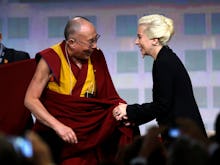 Sunday, Lady Gaga sat down with the Dalai Lama to talk about compassion, mental health and how to make the world a better place. 
Monday, China's Apple Daily, a pro-democracy newspaper, reported that the country's propaganda department had ordered websites and media outlets to stop "uploading or distributing her content" and issued orders for party-controlled outlets to condemn the meeting. Other media were ordered not to cover the meeting at all, according to Quartz.
It all came down to Gaga meeting with a spiritual leader to do what she's always done: spread messages of positivity and peace to her sprawling international fan base.
The Chinese government has long considered the Dalai Lama to be a hostile foreign force because of his advocacy for an independent Tibet, previously describing him as a "wolf in monk's robes."
"The purpose of his visits and activities in other countries is just to promote his proposal for Tibetan independence," Chinese foreign ministry spokesman Hong Lei said Monday, according to the Associated Press, though the topic never came up in Gaga and the Dalai Lama's livestreamed chat. "We hope that people from the international community can be fully aware of his true colors and nature."
Several commentators claimed Gaga knew exactly what she was doing when she met with the Tibetan spiritual leader. "Lady Gaga knew how Beijing would react," Bill Bishop, who writes the Sinocism newsletter to help Western readers understand China, wrote on Twitter. "Good for her to show some courage, unlike most celebrities who are scared of bullying Beijing now."
On other end of the debate, many of Gaga's Chinese fans responded angrily on the social media site Weibo, which usually scrubs mentions of the Dalai Lama from its message boards. 
However, the site allowed users to express their discontent with the international pop star. "She did not consider her Chinese fans!" user GeorgeLee wrote in one of the most widely shared posts, according to Billboard. As of publication time, Gaga's music was still available on the Chinese streaming service QQ.
Gaga's work has been banned from China before due to the "vulgar content" of her songs — as have Katy Perry and Beyoncé's music. Maroon 5 was reportedly banned in the past for wishing the Dalai Lama a happy birthday on social media. Selena Gomez may have had to cancel concert dates back in April because of a picture of her and the Dalai Lama dating back to 2014.
Lady Gaga has yet to comment on the backlash, but continued to share photos and quotes from their conversation throughout Sunday.
Read more: