IKEA Recalls MALM Dressers: Here's How to Get a Refund or a Repair Kit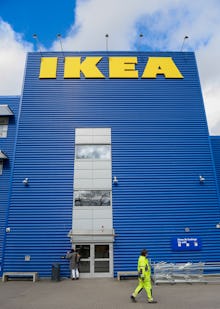 Swedish furniture giant IKEA has recalled some 29 million of its MALM chests and dressers because of their tendency to tip over. So far, at least six children have died, according to ABC News, while 36 more have been injured by products that aren't anchored to walls.
"Children see something that they are trying to get that's been left on, they start to climb, the unit falls over," Elliott Kayne, chairman of the Consumer Product Safety Commission, told Today in 2015. "We are talking deaths. We've had two children in the last year-and-a-half die from these types of units."
IKEA began distributing free wall anchor kits last year, offering to send people to consumers' homes to install them or to replace existing restraints. On Tuesday, the company urged owners to stop using the units and move them out of the reach of children. According to NBC News, IKEA has shipped 300,000 kits since launching the program, but although the company's urged customers to anchor any heavy object that might topple, MALM-related injuries still occur. 
"It is clear that there are still unsecured products in customers' homes, and we believe that taking further action is the right thing to do," read a statement from IKEA. "We will continue to work collaboratively with the CPSC on tip-over prevention, development of the ASTM standard and innovations that will enhance product safety and further reduce the risk of tip-overs."
It's not just IKEA products that pose a danger, though: According to the CSPC, falling furniture and televisions send a child to the emergency room every 24 minutes, necessitating the commission's running list of recalled items.
In a household with small children, the CSPC advises that any dresser should always be anchored to a wall, no matter who it was made by. 
For anyone who's purchased a MALM dresser, information on ordering a free anchor kit or getting a refund is available via IKEA's website here, and instructions for securing the units can be found here.