Should You Buy the iPhone 7? Here's Everything You Need to Know About the iPhone 7 and 8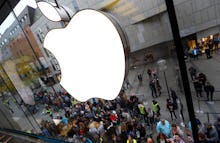 The iPhone 7 (or 7 Plus or maybe even just Pro, who knows?) is probably going to be thrusted in front of our gadget-thirsty faces in September. 
The iPhone 8 (or 8 Plus or iPhone X or who cares) will likely be dangled in front of our eyes in 2017. One bling to rule them all. 
Based on the rumor mill, both future iPhones are shaping up to be improvements from the current models — but if you're not looking to buy a new iPhone every year, which should you buy? 
The iPhone 7 is reportedly going to look a lot like the iPhone 6 with a "modest upgrade" compared to the iPhone 8. 
The iPhone 7 will be sleeker and more powerful than its predecessor, and it may (or may not) debut without a headphone jack, with another speaker grill, and in new color options. 
As for the iPhone 8 (Apple's 10-year anniversary phone) it too will likely get upgraded guts, as each next-generation iPhone does, but in a flashier body — a wraparound, all-glass, casing with an impressive OLED display. 
Both phones will see improved specs, but it's the design of the iPhone 7 and 8 that will greatly contrast one another. If you love your current iPhone model but are looking for a bit of a boost in performance, the iPhone 7 will suffice. But if you want the Cinderella glass slipper of Apple, hold out for the iPhone 8.
Read more: