Friend of Orlando Shooting Victim Wants Him to Become First LGBT Star Wars Character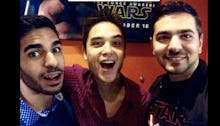 Never tell Joshua Yehl the odds. 
Yehl, 28, of Los Angeles, California, is petitioning Disney and Lucasfilms, the studios behind the Star Wars franchise, to dedicate an out LGBT character to his friend, Christopher "Drew" Leinonen, who was killed in the mass shooting at Pulse nightclub in Orlando, Florida. Leinonen was killed along with his partner, Juan Roman Guerrero, and their families planned a joint funeral. 
The idea to have the franchise's first onscreen out character named after Leinonen came to him on the way home from Leinonen's funeral, Yehl said. He also said he hoped that having a gay character either inspired by or named after Leinonen could counteract some of the hate and homophobia in the world. 
"Everyone likes Star Wars, so I feel like that means everyone might think, 'I don't have to hate them or fear them because they're apart of this thing that I love,'" Yehl said in a phone interview. "I felt like I want to show the Drew who I knew, who I considered the real Drew, who was this big nerd, who liked Pokemon and video games and was a movie buff."
Yehl and Leinonen met when they sat across from each other at a dinner party. They discussed Battlestar Galactica. Leinonen invited Yehl over for a movie night, where Yehl saw Leinonen's collections of movies and action figures. 
 "I don't have to hate them or fear them because they're apart of this thing that I love."
"We became best friends in like a day," Yehl said. 
Though they met in Orlando while students at University of Central Florida, a new job opportunity recently brought Yehl out to Los Angeles. Leinonen, Yehl said, was the first to visit him. They saw Star Wars: The Force Awakens together. 
"If anything had a machine aspect, he just fell in love with it," Yehl said. "He bought a popcorn tin that had BB8 on it, but he didn't put popcorn in it because he wanted to collect it." 
Due to his love of machines, Yehl said, Leinonen loved Darth Vader, half man, half machine, and General Grievus, also part man, part machine. 
Other Disney fans are clamoring for more LGBT representation on screen in a variety of ways. Recently, petitions like #GiveElsaaGirlfriend and #GiveCaptainAmericaaBoyfriend have requested that the studio do more than pay lip service to LGBT fans. Recent Pixar film Finding Dory caused a firestorm online when the trailer featured a glimpse of a lesbian couple. 
While Star Wars has never featured an out LGBT character on screen, there have been some LGBT characters in the larger Star Wars universe outside of the films. And of course, the internet does keep shipping Poe Dameron and Finn. Force Awakens director J.J. Abrams has also spoken in favor of having gay characters in the Star Wars universe. 
Yehl's Change.org petition currently has over 2,700 supporters. 
Read more: