New Benghazi Report Released — Here's What It Means for Hillary Clinton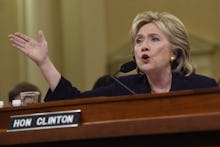 The Republican-led House Select Committee on Benghazi released a new investigative report Tuesday detailing the events of the 2012 attacks that killed four Americans in Benghazi, Libya. The 800-page document follows the Democrats' own Benghazi report published Monday in anticipation of a Republican takedown of presidential nominee Hillary Clinton, who was secretary of state at the time of the incident.
Tuesday's report summary includes a list of "new revelations," the first of which states President Barack Obama and Secretary of Defense Leon Panetta's "clear orders to deploy military assets" had been ignored. 
"Nothing was sent to Benghazi, and nothing was en route to Libya at the time the last two Americans were killed almost eight hours after the attacks began," reads the bullet point. 
The report highlights other logistical and systematic failings on the part of the U.S. military and administration, noting that a Fleet Anti-terrorism Security Team sat idle on a plane in Spain for hours, changing in and out of their uniforms four times. Meanwhile, other "relevant military forces" weren't deployed on schedule and the Libyan forces who evacuated the U.S. officials were "comprised of former Qadhafi loyalists" rather than troops associated with the CIA or State Department.
Among these major takeaways, there is only one mention of Clinton, who gave an hourslong testimony in October when she appeared before members of the House Select Committee on Benghazi, who questioned her handling of the attacks. The call-out only mentions that Clinton had made a statement the following day, alongside Obama. 
"It is not clear what additional intelligence would have satisfied either Kennedy or the secretary in understanding the Benghazi mission compound was at risk — short of an attack," the report says of Clinton's role, according to CNN.
So if Select Committee Republicans aren't going to go hard after Clinton in their new report, what does the lengthy document mean for the Democratic nominee's bid for president?
The authors of the Democratic report said the fixation on Clinton's involvement in Benghazi serves to rehash inflammatory theories masquerading as fact. 
"Rather than reject these conspiracy theories in the absence of evidence — or in the face of hard facts — Select Committee Republicans embraced them and turned them into a political crusade," reads the report, according to a separate CNN story.
With the general election fast approaching, renewing doubt in Clinton furthers a narrative of the nominee as "dishonest" and attempts to block a Democratic presidential victory.
Democrats came down on Republicans' report, saying that the House Select Committee's refused to collaborate because they didn't want to check their facts against Democrats' evidence.
"In refusing to issue its report on a bipartisan basis, the committee is breaking from the precedent set by other Congressional inquiries into the Benghazi attacks," Clinton's spokesman, Brian Fallon, said in a statement, according to Politico.
Read more: