Brogurt, Brosé, and 7 Other Foods Made Just for Men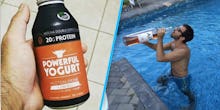 Food marketers are constantly telling consumers what "real" men and women should eat. Stroll through the aisles of a grocery store and you'll be bombarded with gendered food product labels.
Some products like LUNA bars even come right out and say "nutrition bar for women." But other marketers are a little more subtle — dark packaging with blocky fonts, words like "bold," "protein," "strong" denote that a food is fit for man. Meanwhile, light or white-colored packages with sprawling, cursive or otherwise dainty fonts are typically marketed toward women.
All of this is just part of a selling scheme. Calories are calories, whether consumed through LUNA bars or Hungry Man TV dinners. A man won't sprout a set of double D's if he chooses to chow down on LUNA bars or other conventional "lady foods" like yogurts, diet colas or low-fat desserts.
But marketers want men to shell out for "masculine" products, playing into male insecurities.
Sigh.
Is American masculinity so fragile that our men need permission to consume typically female fare? And it begs the question: Why must marketers gender diet and low-cal foods as female in the first place?
Feed your frustration with these 9 ridiculous examples of "girly" food and drink made just for men, according to marketers.
1. Powerful Yogurt
Black packaging, bull-like icon on the front? 21 grams of protein? Me wanna be strong like ox. This is brogurt, not to be mistaken with regular yogurt. Playing into male insecurities even more, the commercial broadcasts the slogan "find your inner abs" while a Ken doll-like man jumps starts a helpless woman's car with his abs. This is a far cry from this Light & Fit Greek yogurt commercial that features a woman resisting the siren call of office cookies by eating a purple-colored yogurt pot.
2. Dannon Oikos Triple Zero yogurt
According to Food Navigator, Oikos Triple Zero is meant to appeal to both men and women, but the labeling makes it clear that marketers are making a big play to appeal to men. The black packaging evokes "Powerful Yogurt" brand above, and the NFL logo is quite prominent.
3. Brosé
Ah, rosé. The pinkish wine is a summertime favorite, but marketers must think pink turns men off from purchasing this refreshing booze. One brand is skirting the issue by calling its product brosé and slap a "pound" fist on the label. (See above.)
And brands like "The Drop," a new rosé offered in a can, are attempting to make the drink more accessible to men by taking it out of glass bottles and putting the wine into cans.
"We had a specific type of millennial bro that we wanted to talk to and a powerful brand name that got right to the heart of their lifestyle," strategy director Georgia Levison told Adweek.
4. Dr. Pepper 10
The tagline "It's not for women" is no subtle cue that this product is mean for penis-owners only.
"In much the same way that too much sugar overwhelms our taste buds and makes us feel a bit ill, their clumsy attempt at masculine branding left its audience slightly uncomfortable" marketing analyst Austin Gunter wrote on his blog.
Don't worry, men, your masculinity isn't under attack if you want to sip a cola that has 10 "bold" calories.
5. Coke Zero
Diet Coke won't do when you've got a man-sized thirst for low-calorie cola.
"There's a broad group of young adult males who are looking for full flavor ... and, oh, by the way, it has zero calories," Caren Pasquale Seckler, Coke's group director of diet cola brands in North America told ABC News. Unclear why women aren't looking for full flavor as well.
6. "Skinny Cow for Him"
Do men really need their own kind of ice cream? This was a marketing stunt pulled off by the Skinny Cow brand — the company simply designed new limited-time packaging for the same health-conscious ice cream they were already producing. While all cows are female, the brand transformed its mascot into a male version of the animal that just doesn't exist. Plus, a cow with those bulging muscles just hints at steroids, something nobody wants in their ice cream.
But it's not a bad idea to poke fun at one's own hyper-feminine marketing. Normally, Skinny Cow packages feature pink branding and swirly, cursive font. According to Blog 360i, the "Skinny Cow for Him" marketing stunt was geared to address the phenomenon wherein men were stealing their wife's Skinny Cows, but perhaps the brand would be better off rebranding the product entirely to be less gendered in the first place.
7. STRONG & Kind Bars
ALL CAPS STRONG Kind bars evoke a more masculine vibe. And the football-themed bowl doesn't hurt, either.
According to Fast Company, Kind decided to market to men after realizing dudes weren't into sweet flavors, pretty packaging or dainty-sized bars. The savory, spicy flavors are meant to appeal to guys, too.
8. "Chunky" soup
No wimpy noodles here. Just hearty, pizza-flavored soup that "eats like a meal." According to the blog Consuming Cultures, Campell's advertising spots for their Chunky line of soups include a ravenous football player — a traditional symbol of masculinity — which reinforces conventional gender roles.
Interestingly, Consuming Cultures noted that Campbell's also markets Chunky soup to women, but with different tactics. For example, in women's magazines marketers tout that the soup contains lean cuts of meat and a serving of vegetables.
9. Snickers
Chocolate is typically marketed to women (cough, cough, Valentine's Day, menstruation, all of it) but Snickers marketing makes it man-friendly candy through their packing and ads. In the Tweet above, Snickers positions itself as a snack to help men do manly things, like shaving. Huh.
Take a look at the product page for Snickers and you'll see a huge man's hand gripping a large, brown candy bar. The chocolate is marketed as a way to "curb your hunger," a way to fuel up. In contrast, most chocolates, like Dove chocolates, for example, are marketed as feminine indulgences meant to please women.
Read more: