Japan Is Bribing Its Youngest Voters With Discounted Ice Cream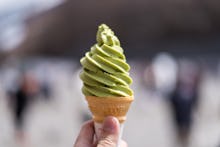 It's no secret that people love a good food deal, but is the promise of a cheaper treat enough to convince people to do their civic duty? 
Wakazo Corporation, a Japanese organization that encourages younger generations to participate in politics, is hoping to convince young voters to head to the polls by rewarding them with discounted ice cream, Rocket News 24 reported. Japan's minimum voting age recently dropped from 20 to 18 years old, and Wakazo is banking on a cool, creamy treat to get newbies involved in the upcoming election.
First-time voters who show proof that they participated on election day will receive a 200 yen (about $2) discount on a soft-serve matcha ice cream cone, which will essentially drop the price of the Tsujiri tea branded dessert to less than a dollar. The discount can be redeemed from the day of the election on July 10 through July 24. Sounds more delicious than an "I Voted" sticker, no?
The ice cream discount is part of a largest initiative by the Wakazo Corporation to get voters to the polls. In 2012, the company arranged a number of discounts and specials for voters in various cities and found a decent amount of success, Rocket News 24 wrote. 
Should every country try this tactic?
Perhaps offering up discounted ice cream cones or free beer to younger voters could have benefited the U.K. during the recent vote on the Brexit referendum. The country voted the leave the EU by a close margin, but the decision was largely driven by older voters. Only 36% of voters between the age of 18 and 24 showed up to the polls. The decision — and its staggering consequences — could have gone the other way had the younger generation turned up to vote.
While discounted and free food is attractive – just look at all the people willing to line up for hours to score Chick-fil-A gift cards — more millennials would probably vote if you could just do it from a smartphone. After all, they are the internet generation. 
Read more: